Settlement Updates Revealed at Levaquin MDL Conference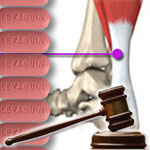 Drug maker Johnson & Johnson, Ortho McNeil Janssen Pharmaceuticals, and lawyers representing former patients of the antibiotic Levaquin gathered before United States' District Judge John R. Tunheim for a status conference on June 11, 2012. Minutes were taken, and they reveal a significant amount about the cases pending in the multidistrict litigation case against the drugmakers–there are currently 1,787 cases pending in the MDL and thousands of others centralized in New Jersey state court. According to the defendants, they have reached Levaquin lawsuit settlements with hundreds of the New Jersey patients, meaning litigation is over for these men and women who have filed suit.
Pending cases against Levaquin claim ruptured tendon after using Levaquin and tendon damage, which is a side effect that was added to Levaquin warning labels 13 years after the drug was approved by the Food and Drug Administration, in 2009.
Hundreds of settlements agreed upon
The defendants have, in total, about 3,700 lawsuits filed against them at this time. Each of these suits claims tendon ruptures, damage, and/or tendonitis. Several hundred of the New Jersey lawsuits have been settled, according to the minutes of the status conference, and Jonson & Johnson expects to reach settlements with some cases in the multidistrict litigation, as well.
Four lawsuits, separate from the MDL, have already made it to trial by jury, and three of these were ruled in favor of the drug manufacturer, Johnson & Johnson. The fourth, however, which was the first to go to trial, ended with a ruling in favor of the plaintiff. This bellwether trial resulted in $1.8 million in damages, including punitive damages for reckless failure to warn of potential side effects of the antibiotic.
Bellwether trial slated for October
The next status conference in the ongoing Levaquin MDL case is scheduled for the 17th of July, at which time both parties will have submitted suggestions of possible plaintiffs for the next bellwether trial, which is scheduled to take place in October 2012.
Invalid tag specified, please contact administrator.