DePuy Admitted That Recalled ASR Hip Model Had 13 Percent Failure Rate: Lawsuit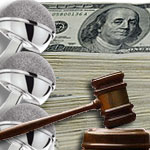 In a new lawsuit alleging complications from the ASR hip replacement system, plaintiff Richard Schwartz of New Jersey notes that when the DePuy hip implant recall of the ASR hip was announced in August 2010, DePuy admitted that the controversial device had a 13 percent failure rate. Schwartz' lawsuit also claims that later studies showed the failure rate to be as high as 49 percent after six years.
Schwartz' lawsuit was filed on June 19, 2012 in the Superior Court of the State of California, San Francisco, and names as defendants DePuy Orthopaedics, Inc., parent company Johnson & Johnson, and implant designer Thomas P. Schmalzried, M.D.
Plaintiff claims complications from ASR hip replacement
According to the lawsuit, Schwartz underwent hip replacement surgery on December 1, 2008, during which the DePuy ASR hip replacement system was implanted in his left hip. This was the same model that was later recalled in August, 2010. After his surgery, Schwartz healed with no infection, and X-rays showed that the hip had been affixed and positioned properly.
However, Schwartz subsequently began to experience complications, including pain and discomfort so severe that he was ultimately forced to undergo DePuy hip revision surgery on November 20, 2011 to remove the ASR hip.
Company did not warn patients of metal-on-metal hip risks, lawsuit charges
DePuy did not warn patients of the risk of complications from of metal-on-metal hips, the lawsuit charges. Such complications can include implant loosening, metal poisoning, inflammation, stiffness, impaired mobility, bone and tissue damage, and crippling pain. In his lawsuit, Schwartz claims that if he had known of such risks, he would not have chosen to be implanted with the ASR system.
Schwartz' DePuy hip lawsuit alleges manufacturing and design defects, failure to properly test the device before marketing it, negligence, failure to warn, breach of warranties, failure to conform to representations, negligent and intentional misrepresentation, and fraudulent concealment.
Thousands of lawsuits have been filed over alleged complications from the ASR hip. On December 3, 2010, an ASR multidistrict litigation was established in the U.S. District Court, Northern District of Ohio, under the Honorable David A. Katz. Currently, the MDL reportedly contains approximately 4,200 lawsuits.
[SmartLink depuyhiplawsuit]