A Stryker Hip Lawsuit is Filed After the Plaintiff Has Problems With Implants in Both Hips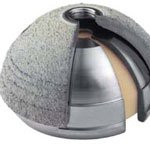 Plaintiff Arthur Boyne filed a lawsuit on June 29, 2012, against the Stryker Corporation in the U.S. District Court for the Middle District of Florida (Ft. Myers Division). He believes that the defendant is liable for the debilitating pain and injuries he experienced after undergoing hip replacement surgery with Stryker's "Trident" model hip.
In 2008, an FDA investigation revealed serious bacterial contamination problems in multiple manufacturing plants, a Stryker hip implant recall was implemented for the Trident Hemispherical Cup and Trident Acetabular PSL cup, the latter of which is the same model as was initially implanted in plaintiff Boyne.
Unaware that the hip was allegedly defective, the plaintiff has a Stryker device implanted in his other hip
Boyne received the Stryker Trident Acetabular implant in his left hip on June 17, 2008. Less than a month later, he had failed to heal properly, and began to experience painful complications, including a left hip wound abscess, infection and bleeding. On July 11, 2008, the plaintiff was forced to undergo another hospital procedure in which his left hip surgical wound was reopened and dead and infected tissue was removed.
Boyne, allegedly unaware that the design of the hip might be the cause of the problems, has a Stryker Trident X3 implanted in his right hip on October 23, 2008.
In his Stryker hip replacement lawsuit, Boyne claims that the Trident hips he received were "unreasonably dangerous and defective," and were marketed by the manufacturer "in such a way as to mislead consumers regarding its safety and efficacy." He claims the Trident was manufactured without adequate quality controls, and that it was insufficiently tested before being put on the market.
Pain from Stryker hips becomes so excruciating, the plaintiff is confined to a wheelchair
Over the next two years, Boyne's complications grew steadily worse. At first he experienced pain in his left hip and pelvis and had difficulty walking, even with a cane. Eventually the pain became so extreme that he was confined to a wheelchair.
By April 2010, he was unable to bear any weight whatsoever on his left hip. A CT scan at that time showed that his left hip implant was penetrating into his pelvis. It also revealed a broken screw and other evidence of device loosening.
In August of 2010, just two years after his initial implantation, Boyne underwent Stryker hip revision surgery to have the Trident device replaced.
In his complaint, Boyne states that his problems were not finished. In March 2011, CT scans showed that both of his artificial Stryker hips were loosening, ultimately contributing, later that year, to a fractured femur bone. Boyne is currently awaiting a second revision of his left hip, as per his orthopedist's recommendation.
Multiple claims and requests for compensation are made in the lawsuit
The recall of Stryker hip implicated thousands of hip replacements throughout the country. Prior to the recall, the FDA had also reprimanded Stryker for failing to address patient reports of complications with the Trident implant, including screw loosening, insufficient bone adherence, bone fracture, and device failure.
Boyne claims the Trident was manufactured without adequate quality controls, and that it was insufficiently tested before being put on the market. Boyne's lawsuit claims strict liability and wantonness, and requests compensatory and punitive damages. He claims that as a direct and proximate result of the defendant's negligence he has suffered serious and permanent injuries that will affect him for the rest of his life. He seeks compensation for pain, medical treatment and expenses, revision surgery, lost earnings, loss of earning capacity, mental anguish, impairment, disfigurement, and loss of enjoyment of life.
[SmartLink strykerhiplawsuit]