California Woman Sues C.R. Bard Over Composix Pelvic Mesh Complications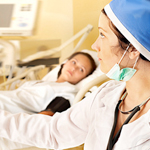 A woman from California has filed a lawsuit against C.R. Bard and its subsidiary, Davol, Inc., alleging that she suffered serious pelvic mesh implant complications from the company's Composix E/X Mesh Hernia Patch. The complaint was filed on October 30, 2012 in the U.S. District Court for the Central District of California.
Background on Composix mesh implant
According to the complaint, the C.R. Bard Composix mesh for hernia repair was first put on the market in 1997. This hernia repair prosthesis was the first to incorporate two different materials: the Bard polypropylene mesh and the expanded polytetrafluoroethylene (ePTFE). There are two different sides of the mesh, with the edge where they meet being heat-sealed.
But within three years of the Composix's introduction, the FDA began receiving reports of complications from the mesh implant, including chronic abdominal pain, bowel adhesion, obstructions, constipation, and instances of the patches crumbling or becoming delaminated. In December 2005, Davol recalled certain lots of a Composix model called the Composix Kugel Mesh Patch, stating that it presented a serious health risk to patients.
Plaintiff suffers problems after being implanted with mesh
On May 1, 2007, the plaintiff was implanted with the Bard Composix E/X Mesh Hernia Patch. She subsequently began to suffer from post surgical complications including severe pain, weakness, fatigue, difficulties with mobility, and problems digesting food. Eventually the problems got so bad that she was forced to undergo revision surgery to remove the implant on October 14, 2011.
The lawsuit brings counts against the defendants of negligence, breach of warranties, and defective design and manufacture, alleging that the companies knew about the product's defects before the plaintiff was implanted with it, but failed to adequately warn the public or the medical community about the implant's risks. Because of the reports of complications received by the FDA, the defendants knew, or should have known, that the Composix had a high rate of complications including extrusion, organ perforation, infection, chronic pain, and abscesses.
The plaintiff is seeking in excess of $75,000 in damages.
[SmartLink vaginalmeshlawsuit]