Florida Plaintiff Claims Yaz Will Shorten Her Life Span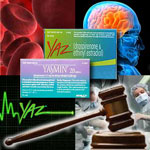 Represented by her Yaz lawyer, Florida resident Latonia Jones filed a lawsuit against Bayer, the manufacturer of the birth control medication, on January 8, 2012. The plaintiff alleges that the manufacturer and its related entities sold the birth control pills Yaz and Yasmin without providing adequate warning of the dangers associated with it. Due to the medication, the lawsuit claims, Jones suffered from stroke, pulmonary embolism, and cardiac arrhythmia. She also needed to have her gallbladder removed.
Plaintiff took Yaz on advice of her doctor
Yaz was recommended by the plaintiff's OBGYN. Jones took the medication from 2007 through 2010 and, her lawsuit alleges, she suffered from Yaz side effects because of her use of these pills. They assert that she has sustained permanent injuries and disabilities that will make long-term care necessary. She claims that she realized that her health problems that required hospitalization and resulted in the removal of her gallbladder were linked to Yaz long after she became ill.
Lawsuit is potential tag-along case of Yaz MDL No. 2100
The plaintiff alleges that the manufacturer was negligent in their duty to provide adequate warnings to the public and medical professionals as to the potential side effects of the drug. She requests compensation for a shortened life span, loss of earnings, hospital expenses, mental anguish, disfigurement, and pain and suffering.
This case is a potential tag-along action in the multidistrict litigation (MDL No. 2100) that is pending in the U.S. District Court for the Southern District of Illinois. The defendant has already negotiated several out-of-court settlements for millions of dollars.
Fourth generation oral contraceptives such as Yaz pose risks
Yaz, Yasmin and the generic form of the drug Ocella use the hormone drospirenone. These drugs are known as "fourth generation" oral contraceptives. The hormone presents different health risks to the older pills to which it is marketed as superior.
Court documents indicate that Yaz, in the brief time it has been available, has been the subject of hundreds of reports to the FDA of injuries and deaths connected to the medication.
A safety communication was mandated by the FDA in 2011 regarding birth control pills that use drospirenone. It cites two medical studies that analyze the risk of venous thromboembolism (VTE) in women using birth control pills with drospirenone. According to the studies, women using these types of pills were subject to three times greater risk than VTE associated with pills that were formulated with levonorgestrel.
In addition, health issues due to the pills using drospirenone such as Yaz have included the following: deep vein thrombosis, kidney disease, gallbladder disease, stroke, atrial fibrillation, and hyperkalemia.
In spite of the evidence and reports of these problems, the manufacturer has not recalled Yaz.