Plaintiff Claims Metal Poisoning from DePuy Pinnacle Hip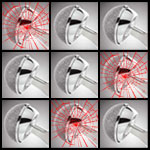 A woman who allegedly suffered metal poisoning and other serious complications from a Pinnacle hip implant filed a lawsuit on December 28, 2012 in the U.S. District court for the Eastn District of California. The defendants named in the complaint are DePuy Orthopaedics, Inc.; Johnson & Johnson, Inc.; Johnson & Johnson Service, Inc.; Thomas P. Schmalzried, MD; and Thomas P. Schmalzried, MD (Professional California Corporation).
Loosenng of Implant Among Many Problems With Pinnacle
According to the Pinacle hip lawsuit, plaintiff Lisa Payne of California was implanted with the DePuy Pinnacle Hip Replacement System on March 10, 2009. She subsequently suffered numerous Pinnacle hip problems including severe pain, instability and loosening of the implant, and metal poisoning, which occurred when the friction of metal-on-metal components caused metal debris to scrape off, releasing toxic cobalt-chromium particles into her tissues, blood, and bone.
Pinnacle was approved without adequate safety testing, lawsuit charges
The lawsuit charges that the Pinnacle bypassed necessary safety testing because it was approved via the FDA's 510(k) process, which allows products to be grandfathered into approval if they are "substantially equivalent" to products that have previously been approved.
However, Payne's DePuy hip lawyer argues that if the defendants had conducted clinical safety trials before putting the Pinnacle hip implant on the market in 2001, they "would have discovered at that time what they ultimately learned [in] 2007 – that the Pinnacle device results in a high percentage of patients developing metallosis."
Lawsuit brings multiple counts against defendants
Payne brings multiple counts against the defendants, including design defects, manufacturing defects, failure to adequately test, negligence, negligent misrepresentation, fraudulent concealment, failure to conform to representations, breach of express warranty, breach of implied warranty of merchantability, and unlawful, unfair, and fraudulent business practices in violation of California business and professions code. She is seeking general, special, punitive, and exemplary damages for economic and non-economic injuries.
Many patients who have suffered complications from the Pinnacle hip have filed lawsuits against DePuy, many of which have been consolidated in a DePuy Pinnacle MDL in the U.S. District Court for the Northern District of Texas.