Plaintiff Requires Two Zimmer Knee Revision Surgeries and Files Suit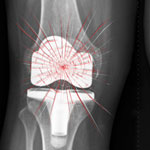 A new lawsuit was filed by a Zimmer knee lawyer on behalf of Lurran Kitchen-McElrath in the Western District of Michigan on December 27, 2012. It was filed via short form complaint. This method is used to alert the court of an impending request to transfer a case to a federal multidistrict litigation (MDL).
MDL is a coordination of similar cases against a shared defendant.
The short form was used to adopt the master long form complaint after the transfer to the MDL is completed.
Plaintiff has revision surgery in both knees
The plaintiff in the case states that she suffered from pain and injury following the implanting of the Zimmer NexGen CR-Flex devices in both left and right knees. She first had the surgeries performed in May of 2010. But by August of 2011, she required revision surgery on her right knee. In March of 2012, she needed revision surgery on her left knee.
She seeks compensatory, punitive and exemplary damages from Zimmer in order to pay for her pain and suffering, medical bills and economic loss. Also listed on the complaint is her spouse, Troy McElrath. He claims that her injuries have deprived him of her companionship and consortium.
Zimmer has no plans for a NexGen recall
In spite of the lawsuits filed due to problems with Zimmer knee, the company has yet to implement a recall of the NexGen knee device. They state that there is no evidence of a design defect, nor is there a higher-than-normal rate of premature failure. No Zimmer knee recall info as to a forthcoming reversal of this decision is expected.
Issues with the NexGen Cr-Flex device have actually been reported by patients. The devices have also been investigated by medical researchers.
Zimmer blames poor surgical technique for device failures
"The High Failure Rate of a High-Flex Total Knee Arthroplasty Design," a non-peer reviewed report issued in a 2010 and written by orthopedist Dr. Della Valle and Dr. Richard Berger, showed a 36 percent rate of the implant loosening with the patient needing revision surgery in 8.3 percent of those who received the Cr-Flex.
The findings in this report have not been validated by the company. Instead, they suggested that the failures are probably due to poor surgical technique and not a problem with the device itself.