Zoloft Lawsuit Joins Growing MDL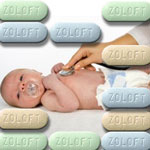 A new Zoloft birth defects lawsuit has been added to the multidistrict litigation case that is currently taking place in Pennsylvania. The MDL is growing continually as more and more plaintiffs join litigation against drug maker Pfizer, claiming that the manufacturer knew or should have known about the risk of birth defects associated with their product but failed to adequately warn patients of this risk, resulting in dozens of children being born with serious birth defects that require ongoing care.
Heart defect claimed in Zoloft case
The new Zoloft side effects lawsuit was filed directly in the multidistrict litigation case, which is taking place in the United States' District Court for the Eastern District of Pennsylvania. The plaintiffs, who claim they were unaware of the risks of Zoloft use during pregnancy, filed their lawsuit on the 4th of January, 2013. The plaintiffs claim that before the plaintiff mother took the medication, in 2006, Pfizer knew of potential risks associated with the popular SSRI antidepressant; tests conducted as early as the 1990s showed a correlation between the use of Zoloft during pregnancy and certain birth defects, including heart malformations. Despite this, the plaintiffs claim, Pfizer failed to warn–and continues to fail to warn–the potential for an increased risk of birth defects associated with its medication.
The plaintiff mother used Zoloft during her pregnancy to combat the symptoms of anxiety, depression, and a mood disorder. Her child was born on October 13, 2008, and was diagnosed with a ventricular septal defect and tetralogy of fallot, both of which are serious heart defects that typically require surgery to correct.
Plaintiffs seek compensation
The plaintiffs in this lawsuit are seeking compensation for the injuries suffered by the newborn. The plaintiffs are seeking compensatory and punitive damages and are charging Pfizer with failure to warn, among other complaints. Dozens of other Zoloft lawsuits have been consolidated in this Pennsylvania court, with plaintiffs claiming birth defects such as heart defects, limb abnormalities, and abdominal defects.