Wrongful Death Zoloft Lawsuit Filed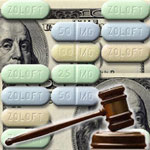 A Maine couple has hired a Zoloft lawyer after their infant daughter died at birth as an alleged result of Zoloft birth defects. The baby girl was born in December of 2010 and died shortly after delivery. The couple claims in their lawsuit that her death was caused by complications she suffered after the mother took the popular antidepressant Zoloft while she was pregnant. They filed their lawsuit on October 24, 2012, in the United States' District Court for the Eastern District of Pennsylvania, Philadelphia as part of a multidistrict litigation case taking place there.
Failure to warn cited
The couple claims that Pfizer did not adequately warn consumers of Zoloft about potential risks associated with the drug if taken by pregnant women. They argue in their Zoloft lawsuit that the drug maker was well aware of these potential side effects, but failed to change labels or appropriately warn consumers about these side effects, putting thousands at risk of birth defects and other complications. Persistent pulmonary hypertension of the newborn, craniosynostosis, and heart defects have all been linked to Zoloft use during pregnancy.
A year before the Maine plaintiffs had their child, the British Journal of Medicine published a study that showed that women taking Zoloft during their first trimester of pregnancy were twice as likely to give birth to a child who suffered from atrial septal defects. The plaintiffs claim, with the help of their Zoloft lawyer, that Pfizer failed to share this information–and other information regarding Zoloft safety–with the general public in the interest of maintaining profits. They are seeking compensation for pain and suffering as well as other costs associated with the loss of their infant daughter.
Zoloft lawyers help patients
Zoloft lawyers across the country have been taking cases of patients whose children have been affected by the serious birth defects that have been linked to the drug. Patients who are seeking legal advice should contact an experienced personal injury lawyer, who may be able to answer any legal questions that they may have.