Zimmer NexGen Knee Lawsuit Added to Federal MDL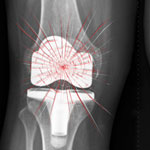 A new Zimmer NexGen knee lawsuit has been added to the growing multidistrict litigation (MDL No. 2272) in Illinois federal court. Susan Schwartz of Ohio, and her spouse David Schwartz, filed a complaint through their Zimmer knee lawyer on March 12, 2013. Schwartz is using a short form complaint and incorporated Master Long Form complaint as the amended complaint for this action. The lawsuit was filed in U.S. District Court for the Northern District of Ohio.
Zimmer knee implant problems reported after implantation
According to this complaint, Susan Schwartz was implanted with Zimmer NexGen GSF CR-Flex devices in her right and left knees on December 18, 2008. The surgery was performed by Dr. Frank Myers at Lake East Hospital in Ohio. After the surgery, Schwartz began experiencing complications with the devices similar to those reported by other NexGen patients.
Although the short form complaint does not detail the specific problems Schwartz experienced, common complications with these implants include loosening of the device, swelling and pain. Reduced mobility is often the result, with patients stating they are unable to walk or stand for long periods without pain. Some have also noticed sounds from the device, such as crunching or popping, with movement of the joint.
Cement-less design often cause of problems
The problems with the NexGen knee implant often stem from the cement-less design of the device. The NexGen implant was created to encourage bone growth, or osseointegration, to hold the device in place. The elimination of cement to bond the implant was thought to reduce the risk of cement contamination into nearby tissue or the bloodstream. However, the osseointegration process can fail to take place properly, which causes the implant to move out of position and results in many of the complaints listed above.
Many patients have undergone revision surgery to remove the faulty implant and replace it with a new device. Revision surgery can often be riskier than the original procedure, due to the potential for bone loss and other damage. Recovery can also take longer after revision surgery. Although Schwartz has yet to schedule revision surgery, according to her Zimmer knee lawyer, an additional procedure may be a possibility if complications do not resolve.
Zimmer NexGen knee lawsuit cites multiple counts
Schwartz and her spouse have listed a number of counts in their Zimmer NexGen knee lawsuit, including design defect, failure to warn, negligence and breach of warranty. Schwarz claims that her injuries after her implant surgery have resulted in economic loss, as well as pain and suffering. David Schwartz is also claiming loss of his spouse's services and loss of consortium on the complaint, as a result of his wife's injuries.
The couple is seeking punitive, compensatory and exemplary damages for Susan Schwartz's injuries and economic loss, as well as the loss of spousal services suffered by David Schwartz. The complaint joins dozens of others in multidistrict litigation assigned to the U.S. District Court for the Southern District of Illinois. The federal MDL was assigned for the purpose of streamlining the legal process, preventing duplicate discovery and possibly expediting potential settlements from Zimmer.