Side Effects of Pradaxa Could Increase Infection Risk, Says Study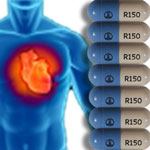 Side effects of Pradaxa, including uncontrollable bleeding, heart attack, and death, have been a source of concern for some time. Now, another risk factor associated with the anticoagulant drug has been identified in a recent North Carolina study – an increased risk for some types of infection. The study indicates that some Pradaxa users could be more vulnerable to certain types of viral infections, including one that has proved life-threatening to children and young adults.
Heart infections linked to side effects of Pradaxa
The study, which was conducted by researchers from the University of North Carolina, found that Pradaxa use may inhibit the immune system, which could increase a patient's risk for myocarditis, a viral infection of the heart that is a significant cause of death in both young adults and children. The researchers believe that Pradaxa use could increase the risk of potentially dangerous viral infections like the flu as well.
The study's initial research was conducted on mice, whose response to viral infections was observed after they were given Pradaxa. Researchers noted that the mice given Pradaxa were more likely to have an increased amount of a virus that made its way to the heart, resulting in myocarditis. Study results were published in the latest issue of the Journal of Clinical Investigation.
The lead researcher for the study, Dr. Nigel Mackman, explained that Pradaxa works on the blood clotting mechanism, which is closely tied to the body's immune system. The blood thinning drug targets thrombin, a substance that plays a crucial role in activating the immune system against some types of viruses that attack the body. It is unknown at this time whether Warfarin, an older blood thinning medication, might have the same effect on the immune system.
Concerns about Pradaxa continue to grow
This recent study simply adds to the concerns about the side effects of Pradaxa. The drug was approved by the FDA in 2010, and since that time, hundreds of reports of side effects have been filed. Unlike Warfarin, there is no antidote to reverse the effects of Pradaxa if bleeding occurs while the patient is taking the drug. This has led to uncontrollable bleeding and hemorrhaging events that have sometimes resulted in patient death. During 2011 alone, the FDA received reports of more than 500 patient deaths linked directly to Pradaxa use.
Some patients began seeking legal action against manufacturer Boehringer Ingelheim to pursue compensation for their injuries. To date, more than 200 Pradaxa bleeding lawsuits have been filed by a Pradaxa lawyer. Federal cases involving side effects of Pradaxa have now been coordinated into multidistrict litigation overseen by Judge David R. Herndon in the Southern District of Illinois, with early trial dates scheduled for August, 2014.
It is too soon to know whether these new findings will play a role in Pradaxa lawsuits in the future. Additional research will be required to determine whether the increased infection risk is limited to Pradaxa use or will expand to other types of blood thinning medications. In addition, studies will need to be performed on human subjects to get a more accurate idea of just how closely this drug might be associated with cardiac and other types of infection.