South Carolina Man Sues Zimmer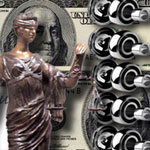 A South Carolina plaintiff has filed suit against orthopedics manufacturer Zimmer after he claims that he experienced serious side effects after being implanted with the manufacturer's Durom Cup hip replacement system. Arthur Bradley filed his lawsuit on the 18th of January, 2013, in the United States' District Court for the District of South Carolina, Greenville. He claims that the defendant was manufacturing and selling a defectively designed implant, namely the Durom Acetabular Cup.
Durom Cup causes complications
It is estimated that 12,000 patients across the country have been implanted with the Zimmer Durom Cup hip replacement system. The device was touted by Zimmer as a revolutionary implant system that would provide patients with a better range of motion and a smaller amount of wear on bearings as compared to more traditional hip replacement systems. However, many patients who were implanted with the device found that it caused them to experience complications such as loosening of the implant, pain, and inflammation. Many patients who experienced these side effects eventually needed to undergo hip revision surgery, a second and potentially more dangerous surgery in which surgeons remove and replace a patient's implant device.
A Zimmer consultant came forward with concerns about Zimmer hip replacement systems a few years after the products were introduced. Dr. Lawrence Dorr noted flaws in the Durom Cup design that could be linked to unreasonably high failure rates–of nearly 24 percent–associated with the devices in a letter written to the American Association of Hip & Knee Surgeons. This failure rate percentage is notable as the predicted failure rate cited by Zimmer is only 5.7 percent.
Other surgeons have articulated similar concerns about the safety of the Zimmer Durom Cup hip replacement systems, and hundreds of plaintiffs have come forward in Zimmer hip lawsuits like Bradley's.
Compensation-seeking patients file suits
Patients who have been implanted with a Zimmer hip device and have experienced side effects like loosening of the implant, pain, and other complications may choose to file suit against the orthopedics manufacturer. Many, like Bradley, are charging Zimmer with false representation, strict liability and failure to warn, negligence, breach of implied and express warranty, fraud, manufacturing defect, and other charges. They are seeking compensation for the injuries they have suffered and related costs–including medical bills, lost wages, and physical therapy costs.