Link Between Benicar & Sprue-Like Enteropathy Discovered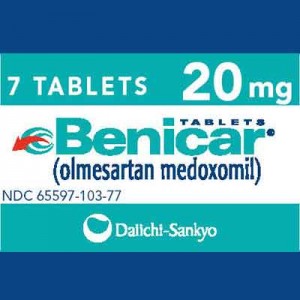 A recent report highlights the link between Benicar and sprue-like enteropathy, emphasizing the importance of doctors being fully aware that the blood pressure medication may cause patients to experience chronic diarrhea and potentially suffer from permanent intestinal damage that is not Celiac disease.
Celiac disease ─ otherwise known as sprue ─ is an illness that can cause patients to suffer from diarrhea, abdominal pain, and other gastrointestinal issues as a result of consuming gluten. Patients typically continue to experience symptoms if they do not adhere to a gluten-free diet and can cause permanent damage to the lining of the small intestines.
Celiac disease occurs in individuals who are genetically predisposed to the condition. However, many patients not pre-disposed to the condition experience similar symptoms or others do not respond to a gluten-free diet ─ known as "unclassified sprue" or "sprue-like enteropathy."
Benicar and Benicar HCT are prescription medicines used to lower high blood pressure.
Benicar & sprue-like enteropathy
A report published last month in the International Journal of Celiac Disease, by Dr. Hugh James Freeman of the Department of Medicine at University of British Columbia indicates the importance of doctors being aware of these similar conditions, which can be triggered by a variety of drugs, including Benicar.
"Traditionally, infectious agents, such as giardiasis, were often believed to be responsible, but in many patients with a sprue-like intestinal disorder, other causes were detected," Freeman stated. "A number of 'new' drugs have also been recently recognized to cause a sprue-like intestinal disease."
Dr. Freeman notes that the association between a more severe form of "sprue-like" enteropathy and Benicar side effects has only recently been uncovered. Symptoms linked to this condition include weight loss, chronic diarrhea, and villous atrophy. He issued a warning that Benicar has also triggered sub-epithelial collagen deposition, which is associated with collagenous sprue ─ and closely related to celiac disease. Dr. Freeman noted that Benicar patients may experience a more severe case of non-celiac disease sprue, often causing the need for repeated hospitalization.
FDA issues Benicar statement
On April 14, 2011, the U.S. Food and Drug Administration (FDA) issued a statement on Benicar and its potentially harmful side effects.
"After reviewing the results of the ROADMAP and ORIENT trials, FDA has determined that the benefits of Benicar continue to outweigh its potential risks when used for the treatment of patients with high blood pressure according to the drug label," stated the FDA. "Benicar is not recommended as a treatment to delay or prevent protein in the urine (microalbuminuria) in diabetic patients."
On July 3, 2013 the FDA issued another statement announcing the approval of Benicar label changes to include a warning that the drug can cause intestinal problems ─ known as sprue-like enteropathy.
"The enteropathy may develop months to years after starting olmesartan, and sometimes requires hospitalization," states the FDA. "If patients taking olmesartan develop these symptoms and no other cause is found, the drug should be discontinued, and therapy with another antihypertensive started. Discontinuation of olmesartan has resulted in clinical improvement of sprue-like enteropathy symptoms in all patients."