20 Stryker Rejuvenate Hip Settlements Reached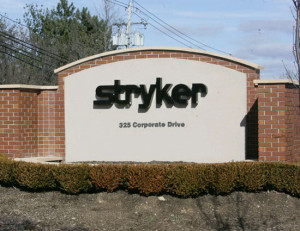 Stryker Rejuvenate hip settlements have been reached in 20 of 21 cases that have completed stage II of court ordered mediation, according to a court document issued earlier this month. The cases are part of a multi-county litigation (MCL) taking place in Bergen County, NJ that encompasses approximately 2,000 cases concerning allegations that two models of Stryker hip replacements were prone to early failure
The MCL, In Re Stryker Rejuvenate & ABG II, was established in order to expedite the many similar cases regarding the hip implants by implementing a shared pre-trial discovery phase for all the lawsuits. Additionally, the MCL process encourages parties to reach settlements rather than engaging in protracted court battles. The 20 resolved cases indicate a modicum of progress in this regard, though courts generally hope to see settlements established on a larger scale.
Court provides updates on Stryker Rejuvenate settlements
In case management order # 19, the Honorable Brian R. Martinotti provided updates on several issues pertaining not only to the settlement program, but also to other issues regarding upcoming bellwether cases in the MCL. Bellwether cases serve as a "testing of the waters" to determine juries' reactions to the evidence presented during preliminary trials. A jury verdict can establish precedent for subsequent trials, helping to avoid conflicting rulings. It can also encourage large scale settlements as the parties see "which way the wind is blowing" and determine that mass settlements would be more cost effective than financing hundreds of trials.
Presiding Judge Martinotti noted in the order that the first two bellwether cases for the MCL have been "tentatively scheduled" for June 15, 2015 and July 13, 2015. The parties have yet to concur on the selection of the cases, but are currently in negotiations. If agreement is not reached on this matter by Nov. 17, according to Judge Martinotti, a phone conference will take place on Nov. 18 to "establish a briefing schedule" that will help to resolve the issue.
Stryker Rejuvenate and ABG II cases top 4,000
Thus far, more than 4,000 lawsuits have been filed against Stryker. They include the MCL cases on a state level, as well as approximately 2,000 Stryker hip lawsuits consolidated as part of a federal multidistrict litigation (MDL) in Minnesota under Judge Donovan Frank. A process to establish eligible cases for bellwether lawsuits is also taking place at this point under Judge Frank, who has recently expanded the eligible pool of cases that parties can draw from as they seek an agreement on the preliminary cases to be tried.
All cases concern allegations that the Rejuvenate hip implants, recalled in 2012 were prone to early failure due in part to their metal-on-metal design. Plaintiffs in the cases contend that they experienced a variety of ailments due to the faulty hips, including pain and mobility problems, tissue damage, and metal poisoning caused by the release of small metal fragments into the body as a result of the implant's metal components rubbing together.
Several plaintiffs have had (or will require) revision surgery to correct the problems that they have experienced. Judge Martinotti also reminded plaintiffs' lawyers that plaintiffs who underwent hip replacement revision surgery following their initial filing of a complaint should submit a "Notice of Revision" detailing this procedure.