Erectile Dysfunction Prompts Propecia Lawsuit In NJ District Court
On April 23rd 2013, a plaintiff filed a Propecia lawsuit in New Jersey District Court asking for more than $75,000 in damages from drug manufacturer Merck & Co. The suit alleges that the defendant negligently manufactured, designed, advertised, and distributed a defective drug marketed to treat baldness, which caused substantial injuries to the plaintiff and others.
What is Propecia?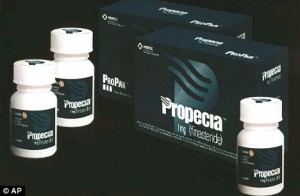 Propecia is a drug manufactured by Merck & Co. that was originally designed to treat enlargement of the prostate, but later approved to treat male pattern hair loss and baldness. Male pattern hair loss is a common condition suffered by a third of all men and is believed to be related to genetic factors and a hormone called dihydrotestosterone. This substance is produced when chemical substance 5-alpha reductase reacts with normal testosterone and, over time, it can shrink hair follicles so much that hair cannot grow on the top of the head.
The synthetic drug finasteride (sold as Propecia) works to prevent hair loss by blocking the 5-alpha reductase enzyme. However, the Propecia lawsuit alleges that published clinical studies show the rates of sexual dysfunction in users of the drug are as high as 39%. Worse yet, only 50% of patients recover sexual function after cessation of the drug.
Lawsuit alleges Propecia erectile dysfunction
In 1998, a 31-year-old citizen of Evanston, Wyoming began taking Propecia. Shortly thereafter, he began to experience "severe sexual dysfunction, depression and cognitive impairment." The plaintiff's erectile dysfunction, reduced ejaculate volume, diminished libido, reduced sensation, infertility, depression and cognitive impairment have caused permanent injury and a severe loss in quality of life.
Propecia lawsuit history
Propecia was FDA-approved in 1992 to treat enlarged prostate. In 1997, the FDA approved its use to treat baldness. Since its introduction to the market, over 1 million people have used the drug.
While the U.S. label indicated that sexual dysfunction was one of the reported side effects, it said nothing about continued erectile dysfunction after the product was stopped.
In 2008, the Swedish Medical Products Agency required all labels distributed in Sweden to contain an additional warning about the drug's long-term effects. The defendants updated the label throughout Europe, but not in its biggest market – the U.S.
Over the years, Merck & Co. have updated their Propecia label nine times, without describing side effects that persisted long after the product was used by patients.
The FDA says the label is "in the process of being changed," but the results still remain to be seen. The website states that "less than 2% of men" who stopped taking Procepia did so because they experienced sexual side effects.
What the plaintiff is suing for
The Propecia erectile dysfunction suit charges Merck & Co. on eight accounts of wrongdoing, including:
Strict liability for the manufacturing of a defective product
Negligence in their marketing and sale of the drug
Breach of implied warranties in delivering a product that could cause permanent harm to users
Breach of express warranty by assuring physicians and consumers that their product was safe
Fraud for concealing test results and not disclosing full knowledge of the product's side effects
Committing unfair and deceptive trade practices by engaging in wrongful conduct
Negligent infliction of emotional distress by carelessly misrepresenting the product's efficiency
Loss of consortium for selling a drug that caused harm not only to the plaintiff, but his wife also
Similar suits
As of April 2013, there were more than 400 similar lawsuits filed against Merck & Co. for Propecia erectile dysfunction and Propecia prostate cancer, according to Public Health Watchdog. A study that came out last year indicated that use of Propecia lowered the overall risk of developing prostate cancer, but interfered with prostate cancer test results and actually increased the risk of developing the most serious type of prostate cancer associated with large tumors. The FDA issued a warning in July, but indicated that the risk was "low" (1.8% compared to a 1.1% placebo, according to their trials).
A class action Propecia lawsuit is proceeding in British Columbia, Canada. In the U.S. individual lawsuits filed in federal courts have been consolidated into Propecia multidistrict litigation in New York District Court.