Ohio MDL Adds DePuy Hip Lawsuit Brought by 21-Year-Old Plaintiff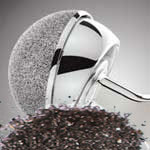 On January 10, 2012, Cassandra Eubanks, a 21-year-old resident of Tucson, Arizona, filed a lawsuit alleging DePuy ASR hip complications including severe pain in her groin, right hip, and lateral hip region, with pain radiating down into her thigh. Eubanks was only 15 years old when she received the implant in her right hip.
DePuy hip lawsuit allegations
In addition to hip pain, the plaintiff's DePuy hip attorney alleges that Eubanks also suffers from metallosis, or increased levels of heavy metals in her bloodstream allegedly caused by the grinding together of the implants metal parts. After extensive testing, Eubanks' physicians informed her that her blood tests revealed excessive levels of cobalt and chromium.
In 2011, the plaintiff was required to undergo revision surgery to remove her hip implant. In 2010, the device in question, the DePuy ASR hip replacement system, was the subject of the manufacturer's voluntary DePuy ASR hip recall.
Plaintiff seeks damages for DePuy hip complications
The plaintiff requests damages for past and future medical expenses, pain and suffering, and emotional distress. Her DePuy lawyer also alleges that Eubanks was not informed of possible  complications or failure until learning of the 2010 recall.
Eubanks contends that, even after DePuy had become aware of clinical findings that would eventually spark the DePuy ASR hip recall, the company continued to market the product to patients, including the plaintiff. As a result of these allegations, Eubanks is also seeking punitive damages.
In 2010, Johnson & Johnson, DePuy's parent company, issued a voluntary DePuy ASR hip recall, citing research that indicated a higher-than-expected failure rate for the company's ASR hip implant.
Eubanks' DePuy hip lawsuit transferred to multidistrict litigation
Though plaintiff Eubanks is a resident of Arizona, her lawsuit will be heard in the United States District Court for the Northern District of Ohio – the federal court presiding over DePuy hip multidistrict litigation (MDL). On behalf of Eubanks, her DePuy lawyer had originally filed the case in U.S. District Court for the District of Arizona (Tucson Division).
[SmartLink depuyhiplawsuit]