Hip Replacement Lawsuit
Thousands of hip replacement lawsuit actions have been filed against the manufacturers of these medical devices, which were intended to reduce pain and increase mobility. At present, Johnson and Johnson's DePuy subsidiary faces more than 10,000 claims concerning its controversial ASR hip implants, which were subject to a product recall in 2010. Patients are also suing DePuy over complications and early failure rates associated with the Pinnacle hip device. Lawsuits are currently pending against other hip replacement makers, including Zimmer, Stryker, Biomet, Smith & Nephew, and Wright.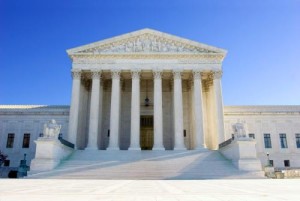 Manufacturers of orthopedic prosthetics have a legal responsibility to ensure their products are properly designed and adequately tested for safety prior to marketing. Companies are also obliged to caution health care providers and consumers about any potential hip replacement risks. Unfortunately, many recipients of metal-on-metal implants and other prosthetics with purported design flaws suffered debilitating injuries, often requiring painful hip revision surgery and costly rehabilitation.
The following devices from various manufacturers have been linked with serious complications, and are the subject of hip replacement lawsuits:
DePuy ASR XL Acetabular System, ASR Hip Resurfacing System & Pinnacle hip
Stryker Rejuvenate and ABG II modular-neck hip stems, Trident hip
Zimmer Durom Cup
Smith & Nephew R3 Acetubular System
Wright Medical Technology Conserve Plus implant
Biomet M2a metal-on-metal hip implants
DePuy ASR & Pinnacle litigation
Multidistrict litigation involving DePuy's ASR hip implants is proceeding in the U.S. District Court for the Northern District of Ohio. Judge David A. Katz is overseeing the multidistrict litigation (MDL 2197). As news reports accumulated, including one in the New York Times in November of 2013, that Johnson & Johnson was preparing to offer $4 billion to settle at least 7,5000 pending ASR cases, it was announced that the bellwether MDL case had been resolved with an undisclosed settlement.
In October 2013, an ASR lawsuit pending in multi-county litigation (MCL) in New Jersey was also resolved right before trial through an out-of-court settlement between the manufacturer and the plaintiff.
The ASR (Articular Surface Replacement) devices, which are metal-on-metal hip implants, were voluntarily recalled on August 24, 2010, after post-marketing reports showed unreasonably high failure rates and incidents of heavy metal blood poisoning.
The MDL centralizes all federal claims in one district court for more efficient pre-trial proceedings, but each hip recall lawsuit plaintiff retains the individual status of his or her case.
Additionally, some 2,000 DePuy ASR hip lawsuits have been consolidated in California Supreme Court. The first case to go to trial resulted in an $8.3 million award to plaintiff Loren Kransky, who experienced metal poisoning after receiving the ASR device.
In May 2011, the DePuy Pinnacle MDL was established in the U.S. District Court for the Northern District of Texas, presided over by the Honorable James E. Kinkeade. To date, more than 1,800 claimants have filed a Pinnacle hip replacement lawsuit; these cases are now pending in the products liability litigation. The Pinnacle hip implant is made with a metal femoral head that rotates against a metal liner, and was also linked to premature failure and severe complications.
Stryker Rejuvenate & Trident hip lawsuits
Patients are also filing hip recall lawsuits over the Rejuvenate and ABG II modular hip implants, designed and distributed by Stryker Orthopedics. Citing the potential for fretting and corrosion, the company issued a recall on both devices in July 2012. Over 50 cases have been centralized in multi-county litigation (MCL) in New Jersey Superior Court. An MCL functions in much the same way as multidistrict litigation, but handles claims on a state level.
Both the ABG II and Rejuvenate hip replacements were comprised of titanium and chromium components that could grind together, releasing metal ions into the surrounding tissue and bloodstream. In March 2013, a petition was filed requesting centralization of all federal Rejuvenate hip replacement lawsuits. The Judicial Panel on Multidistrict Litigation (JPML) is presently hearing oral arguments about this possibility.
Following the 2008 Stryker hip recall of the Trident Acetabular Cup System and Hemispherical Cup Systems – both ceramic-on-ceramic devices – some recipients of the implants came forward seeking compensation for their injuries. In a recent Trident hip lawsuit that Stryker tried to have dismissed, Judge Tanya W. Pratt of the U.S. District Court for the Southern District of Indiana decided that the claimant's lawsuit was valid because it "clearly alleges that the defect was caused by 'manufacturing problems and poor quality control,' and that its recall was based on 'the FDA's finding that the Prosthetic Device was not manufactured properly.'"
Zimmer Durom Cup lawsuits
Another metal-on-metal hip implant, the Zimmer Durom Acetabular Cup has been the subject of lawsuits throughout the nation. In June 2010, all federal claims regarding the Durom Cup were coordinated in multidistrict litigation, which is headquartered in the U.S. District Court for the District of New Jersey (MDL 2158). Zimmer has reportedly earmarked $270 million to settle the remaining Durom Cup lawsuits by the end of 2014.
In addition to claims against the above manufacturers, federal hip replacement lawsuits in multidistrict litigation are accumulating against Biomet (MDL 2391) and Wright Medical (MDL 2329).
Grounds for filing a hip replacement lawsuit
Serious hip replacement problems can leave recipients with lifelong injuries, reduced mobility, and the need for hip revision surgery.
Complications associated with metal-on-metal hip prosthetics include:
Bone damage
Inflammation
Chronic pain
Limited mobility
Blood poisoning (metallosis)
Pseudotumors
Early failure requiring corrective surgery
Manufacturers like Stryker and DePuy recalled some of their hip replacement systems and components due to design flaws. Others continued to sell their implants as safe and effective, despite mounting adverse event reports indicating otherwise. Defective medical devices such as the ASR hip implant and Stryker Rejuvenate can leave patients with catastrophic damages resulting in substantial medical expenses, lost income, and a diminished quality of life.
Hip recall lawsuit plaintiffs may be eligible for the following types of compensation:
Past and future medical bills, including hip revision surgery and rehabilitation
Lost wages
Pain and suffering
Loss of consortium for the plaintiff's spouse
Punitive damages to punish and deter similar future conduct
Hip implant lawsuit advice
When a manufacturer places profits above consumer safety, they should be held liable for the damages and injuries they cause. Some may offer compensation as part of a product recall, as DePuy did after it withdrew the ASR hip implant. However, numerous patients claim that the reparation offered barely covered the cost of revision surgery, and did not address their pain and suffering or other economic losses. In certain situations, a lawsuit may help patients secure more adequate compensation.
An experienced products liability attorney can examine the facts surrounding your case to determine your eligibility for securing compensatory and/or punitive damages in a hip replacement lawsuit. With growing litigation against orthopedic manufacturers and several device recalls already in place, more companies are setting aside funds for hip implant lawsuit settlements. Successful litigation can recover millions in damages, as it did for Loren Kransky, whose ASR hip lawsuit may indicate the outcome of future similar cases.