Risperdal Lawsuit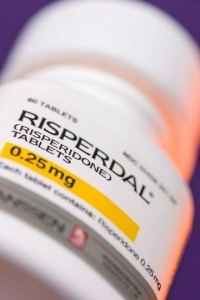 An antipsychotic drug approved by the FDA in 2003 for the treatment of schizophrenia and bipolar disorder, Risperdal (risperidone) has been prescribed to millions of patients suffering from psychological symptoms like hallucinations, delusions, and paranoia. In 2006, the FDA approved the drug for treating irritability associated with autism in children and adolescents, and in 2007, for use in children and adolescents with schizophrenia and bipolar disorder.
Starting as early as 2006, however, patients and scientific studies began to report serious side effects associated with risperidone, including diabetes, heart problems, and male breast growth. Some patients who were allegedly injured after taking the drug filed Risperdal lawsuits, and by September 2012, over 400 cases had been filed in courts across the country.
Injuries linked with the use of Risperdal
Plaintiffs have filed product liability lawsuits against manufacturer Ortho-McNeil-Janssen, a subsidiary of Johnson & Johnson.
Plaintiffs who file a Risperdal lawsuit may claim one or more of the following injuries:
Gynecomastia: This condition causes males to experience abnormal growth of breast tissue. Other symptoms may include puffy nipples or enlarged nipples, painful breasts, and nipple discharge. Risperdal (risperidone) has been linked with potentially increasing the amount of "prolactin" in the blood, which is associated with lactation.
Diabetes: In 2003, a study published in Pharmacotherapy reported that treatment with antipsychotic drugs like risperidone may increase the risk of high blood sugar levels. In 2004, the FDA required a warning placed on package inserts of all atypical antipsychotic medications alerting patients and doctors to the potential increased risk of high blood sugar and diabetes.
Neuroleptic Malignant Syndrome (NMS): A potentially fatal syndrome involving irregular pulse and blood pressure, and well as muscle rigidity, NMS has been linked with the use of Risperdal in at least 14 cases.
Tardive dyskinesia: An incurable movement disorder, tardive dyskinesia can result in grimacing, lip smacking, spasms, and other uncontrollable muscle movements. At least three cases of the disorder have been reported with the use of Risperdal.
Stroke: At least 37 reports of strokes, including 16 deaths, have been reported with Risperdal use. A 2013 study reported an increased risk of ischemic stroke with the use of risperidone in patients over the age of 64. An earlier 2003 study published in BMJ reported that all antipsychotics are associated with an increased risk of stroke, with the risk higher in those using atypical, or newer, medications like Risperdal.
Risperdal lawsuits claim gynecomastia
A number of Risperdal lawsuits include claims of gynecomastia, especially in children and adolescents. In fact, a 2009 study published in Psychoneuroendocrinology investigated the levels of prolactin and other hormones in 89 male schizophrenic patients treated with risperidone and one other similar medication. Results showed the risperidone created higher levels of prolactin than the other drug.
"Treatment with this medication can be associated with disturbances in reproductive hormones and gonadotropins," the authors wrote. They added that patients taking the drug showed higher levels of sexual dysfunction.
A later study published in the Journal of Child and Adolescent Psychiatry in 2012 also reported that long-term treatment with risperidone in males 10-20 years old may boost levels of prolactin, the hormone that stimulates milk production. In fact, boys taking the drug were 72 times more likely to have elevated prolactin levels than those who didn't. Symptoms included enlarged breasts and erectile dysfunction.
Some examples of Risperdal lawsuits involving gynecomastia include:
2008: Six teenage boys who allegedly suffered from enlarged breasts after taking the drug filed a lawsuit against the manufacturers. Two of the boys allegedly required surgery to remove the abnormal breasts.
2012: In a Risperdal lawsuit filed in Pennsylvania, J&J agreed to a pre-trial settlement with the plaintiff, who claimed to have suffered psychological trauma after growing breasts while taking Risperdal, starting when he was only nine years old.
2012: J&J settles five Risperdal lawsuits involving claims of gynecomastia that were filed in Philadelphia. The settlements were for undisclosed amounts. In one of the cases, the plaintiff stated he started taking the drug when he was five, and started growing breasts when he was 12.
Several hundred Risperdal lawsuits are still pending in various courts. Though J&J lost patent protection for the drug in 2007, it has continued to enjoy millions in sales.
Controversy surrounds the Risperdal prescriptions
The Department of Justice, state attorneys general, and other plaintiffs filed a lawsuit against the manufacturers of Risperdal in January 2010, claiming that the companies had promoted the drug for so-called "off label" uses that were not approved by the FDA. According to court documents, between 1999 and 2004, the companies paid $50 million in kickbacks to a pharmaceutical supply company to sell Risperdal in nursing homes. The FDA had not approved of the use of the drug to treat symptoms of elderly dementia, and later studies found that the drug increased the risk of stroke and even premature death in this vulnerable group.
Indeed, in 2005, the FDA warned that atypical antipsychotic drugs increased the risk of death in elderly patients with dementia, and that the unapproved use of such medications in this population should be avoided.
In 2010, investors also filed a derivative Risperdal lawsuit against Johnson & Johnson's executives in New Jersey. The manufacturers would later settle their fraud case with 36 states and the District of Columbia for $181 million, though they denied any wrongdoing. They also paid settlements or jury awards in several other state cases, including $1.1 billion in 2012 for claims by the state of Arkansas that they hid the health risks of the drug from doctors and patients.
In 2013, the U.S. Justice Department announced that Johnson & Johnson had agreed to pay a $2.2 billion Risperdal settlement as a penalty for multiple civil and criminal charges. The drug company was accused of illegally promoting its drug for use on elderly dementia patients at nursing homes, and for paying millions in kickbacks to medical facilities and physicians.
2016: J&J hit with $70 million verdict
Johnson & Johnson has been settling some of the 1,500 plus Risperdal gynecomastia claims confidentially, but has also lost several cases in court. In July 2016, a Philadelphia jury found J&J liable for failing to warn of Risperdal side effects, awarding a Tennessee teenager $70 million in damages. The $70 million Risperdal verdict dwarfs previous awards rendered in the same court. Plaintiff Austin Pledger, from Alabama, was awarded $2.5 million last year. Pledger developed 46 DD breasts after taking the antipsychotic medication. Jurors in Philadelphia Circuit Court also handed down a $1.75 million verdict in another Risperdal case filed by a young man who developed breasts. Legal representatives from J&J say the company intends to challenge the $70 million verdict. Given the magnitude of this recent award, some speculate that J&J may set up a global settlement program to resolve pending claims.
Choosing the right Risperdal lawyer
When the FDA approved Risperdal in 2003, many hoped the antipsychotic drug would be the answer to hallucinations, paranoia and delusions. What they didn't expect was serious complications, like heart problems, tardive dyskinesia, diabetes and male breast growth. And patients taking the drug certainly didn't expect to embark on a legal battle against Ortho-McNeil-Janssen, the drug's manufacturer and a subsidiary of Johnson & Johnson.
If you or a loved one were unfortunate enough to take Risperdal and develop serious or life-threatening complications, you're probably overwhelmed by the road ahead. That's where a qualified Risperdal lawyer steps in. Your Risperdal attorney will be your personal guide to the legal system: he or she should have experience representing plaintiffs like you in defective drug lawsuits. Your attorney should stay up-to-date on all the latest research and studies; should keep abreast of the latest lawsuit filings; and should know how to establish a burden of liability against Ortho-McNeil-Janssen.
Choose a Risperdal lawyer who understands this litigation – and who understands you. Choose someone you feel comfortable speaking to, and who treats you with respect. Remember, your lawyer's job is to advocate and advise, and to follow the course of action that you ultimately decide upon. Your Risperdal attorney should always inform you of your options, but let you make the final decisions about your case, your settlement, or your jury trial.