Testosterone Therapy Lawsuit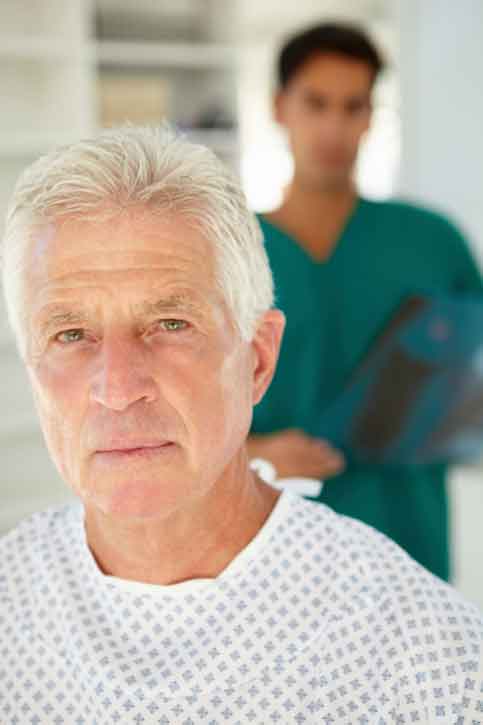 Testosterone therapy lawsuits are gaining momentum across the U.S., with the first claims filed early in 2014 and currently over 1,500 cases consolidated in federal court in Chicago as part of multi-district litigation (MDL). Plaintiffs are taking legal action against the manufacturers of testosterone therapy products arguing they were not sufficiently warned about serious risks, including heart attacks, blood clots and strokes.
The defendants are alleged to have engaged in an aggressive and deceptive marketing campaign. With the help of testosterone injury lawyers specializing in products liability litigation, plaintiffs are demanding compensation for their injuries, medical expenses, and lost wages.
In May 2015 the Food & Drug Administration (FDA) issued a public safety communication announcing that it was instituting label changes for all testosterone therapy products to better warn men and their physicians of the "possible increased risk of heart attacks and strokes in patients taking testosterone." The FDA also cautioned that the "safety of these medications have not been established for the treatment of low testosterone levels due to aging, even if a man's symptoms seem related to low testosterone."
Testosterone therapy injuries
There are numerous testosterone therapy products designed and manufactured by different companies. One of the most popular products is AndroGel, a hormone gel applied topically. AndroGel is manufactured by Abbott Laboratories and AbbVie. Axiron, distributed by Eli Lilly, is another popular testosterone solution applied topically. The medications absorb through the skin and enter the bloodstream.
Other testosterone products include:
Androderm (Actavis, Inc., formerly Watson Pharmaceuticals, Inc.)
Fortesta (Endo Pharmaceuticals, Inc.)
Testim (Auxilium Pharmaceuticals, Inc.)
Testopel (Auxilium Pharmaceuticals, Inc.)
Men who have filed a testosterone therapy lawsuit allege that AndroGel and similar products caused the following injuries:
Stroke
Portal Vein Thrombosis
Pulmonary embolism (PE, in which a blood clot travels to the lungs)
Death
AndroGel has also been linked to an increased risk of prostate cancer and benign prostatic hyperplasia (BPH), or an enlarged prostate. Furthermore, testosterone therapy supplements have the potential to cause serious side effects in women and girls if they are exposed to the medication. They may also cause birth defects if a pregnant woman is exposed to the testosterone gel.
Testosterone therapy products may present particular problems for diabetics, as they can dangerously decrease blood sugar levels, causing symptoms such as dizziness, blurred vision, and rapid heartbeat.
Eligibility to file a testosterone therapy lawsuit
Men who have suffered side effects of testosterone therapy such as heart problems and are considering their legal options should consult a product liability lawyer to discuss their rights and determine whether they have a strong case against the manufacturer. A prospective plaintiff may be eligible for compensation if he used testosterone treatments and subsequently suffered an adverse medical problem such as a heart attack, blood clot injury or stroke.
It may be more difficult for a patient with a history of cardiovascular problems prior to taking testosterone products to establish liability. Furthermore, because the risk of these types of heart issues generally increases with age, men under 70 generally have a stronger case.
When evaluating a potential claim, a testosterone therapy attorney will need to examine the plaintiff's medical records. The lawyer will also consider whether the plaintiff could have medically benefited from testosterone supplements, or whether the product was wrongfully indicated for that patient, risking their health in the process.
In the wake of a recent FDA investigation into the risks of testosterone therapy heart problems, litigation is expected to escalate substantially.
Current status of testosterone therapy litigation
The coordination of testosterone injury drug lawsuits into an MDL was instituted in June 2014, and is located in the U.S. District Court in the Eastern District of Illinois before Judge Matthew F. Kennelly. The lawsuits involve all testosterone products, regardless of brand or manufacturer. The first bellwether trial for Androgel cases – in which a representative MDL case goes to trial as a litmus test for how juries will respond to the opposing arguments – is scheduled for October 2016. Androgel cases are being organized according to different side effects–in one group, blood clots leading to thromboembolism and deep vein thrombosis, and in a second group, heart attack cases.
Plaintiff Michael Gallagher of Virginia claims that he suffered a heart attack and congestive heart failure after using AndroGel. Steve Marino of Missouri alleges a direct link between testosterone therapy and stroke, while Steven Myers of Texas and Kenneth Aurecchia of Rhode Island both argue that AndroGel caused their heart attacks.
All four of these plaintiffs are believed to have strong cases against Abbott Laboratories because none of them have a previous history of heart problems.
Given that doctors wrote 5.3 million prescriptions for testosterone products in 2011 alone, it is likely that testosterone injury cases will continue to increase in number across the country.
As litigation is still in the early stages, none of the lawsuits have resulted in a jury verdict or settlement. However, given the serious nature of the plaintiffs' allegations, it is possible that substantial compensation could be awarded by a jury or agreed upon through a settlement.
Liability in testosterone heart attack lawsuits
One of the most prominent allegations in Androgel lawsuits involves potentially deceptive marketing campaigns. The FDA approved AndroGel and other testosterone products for use in men diagnosed with clinical hypogonadism. However, Abbott Laboratories and other manufacturers launched advertising campaigns claiming that any man who experienced fatigue, sadness, and decreased sex drive could benefit from these potent medications.
These vague symptoms could describe virtually any older adult at one time or another. And since many doctors prescribed testosterone therapy without testing men for hypogonadism, it is believed that countless patients received the drugs unnecessarily.
Plaintiffs are demanding that testosterone therapy manufacturers be held liable for:
Failure to warn
Negligence
Breach of implied warranty
Breach of express warranty
Fraud
Negligent misrepresentation
Compensation sought by plaintiffs include damages for:
Medical expenses
Lost wages
Loss of future wages
Pain and suffering
Emotional anguish
Permanent injuries or disability
Individuals who have undergone testosterone therapy with AndroGel or other products and subsequently suffered serious complications and side effects are advised to consult a products liability lawyer. A consultation is the first step in determining options for legal recourse. Statutes of limitation control the window of opportunity for plaintiffs to file, and victims of low T drug side effects are urged to speak with a legal representative as soon as possible about their options for filing a testosterone therapy lawsuit.