Zoloft Birth Defects Spark Lawsuits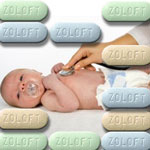 Zoloft is an antidepressant in the selective serotonin reuptake inhibitor (SSRI) class of drugs. The medication is prescribed to patients diagnosed with depression and anxiety, but Zoloft can also have unfortunate and undesirable side effects. Among them, suicidal thoughts and birth defects, including persistent pulmonary hypertension of the newborn (PPHN) and omphalocele.
Mayo Clinic Weighs in on Zoloft Birth Defects
The Mayo Clinic, a not-for-profit medical research group and medical practice, recently acknowledged that Zoloft's side effects may include life-threatening birth defects in infants. While the organization stated that the risk of birth defects after Zoloft use is low, it advised pregnant women to discuss alternative treatments with their doctors, and to educate themselves on potential risk factors.
Studies cited by the Mayo Clinic show that when a pregnant mother takes Zoloft, one-third of her dosage passes to her baby. Zoloft use during pregnancy has led to newborn heart problems, facial deformities and brain defects, as well as PPHN and omphalocele. PPHN is a rare but serious condition that occurs when an infant's circulatory system is compromised, creating difficulty breathing outside the womb. Babies with this condition are unable to send enough oxygen to their organs, and may experience seizures, brain hemorrhage, heart failure, organ damage and death.
Recent research into Zoloft birth defects is corroborated by a study from the New England Journal of Medicine. The journal surveyed 1,200 women with children under six months old. Results revealed that mothers who took Zoloft during their pregnancies were six times more likely to deliver newborns with PPHN.
Another serious birth defect associated with Zoloft is omphalocele, a condition caused by a defect in the abdominal wall and that results in babies born with their intestines, liver and other organs outside their bodies. This condition is usually treated with corrective surgery, although in some cases the baby's abdomen never fully develops, and is therefore too small to accommodate the organs.
Lawsuits Address Zoloft Birth Defects
Although the Food and Drug Administration (FDA) has not required stronger warnings for Zoloft and SSRIs, several families have already gone to court over birth defects. These lawsuits claim that manufacturer Pfizer did not adequately warn patients about the risk of developing these serious side effects.
[SmartLink zoloftlawsuit]