Families Affected by Zoloft Birth Defects File Lawsuits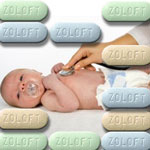 Zoloft, also known as sertraline hydrochloride, is the subject of a growing number of lawsuits around the country. Pfizer manufactures the antidepressant. As some families have unfortunately discovered,side effects can be devastating for pregnant women. Many affected families have retained legal counsel and are seeking compensation for Zoloft injuries in court.
Zoloft birth defects
The antidepressant has been linked to a range of birth defects, including omphalocele, congenital heart defects, and persistent pulmonary hypertension of a newborn (PPHN). In many cases, side effects of Zoloft are life-threatening for a newborn, and life-changing for his or her parents.
FDA investigates Zoloft side effects in infants
Zoloft was first sold in the U.S. in 1992. In 2006, the U.S. Food and Drug Administration (FDA) issued a consumer warning for birth defects, including cleft lip and cleft palate, cranial defects, and limb deformities, including clubfoot.
These side effects occurred in some infants whose mothers had taken Zoloft while pregnant. However, 14 years had passed before the FDA issued its warning, and many families who had experienced birth defects felt that neither the FDA nor the manufacturer had adequately warned them about the risks they faced.
Zoloft lawyer counsels affected families
As scientific research and medical evidence provides more proof of the link between Zoloft and its associated side effects, many families affected by birth defects have elected to filed a lawsuit on the basis that Pfizer failed to adequately warn the public of the risks.
A child born with a clubfoot or cleft palate will require extensive medical care and interventions, which constitutes a significant financial burden for many families. Therefore, these parents seek compensation to cover their children's medical expenses, as well as other damages resulting from Zoloft side effects.
To evaluate their individual cases and possibility of receiving settlements, families have contacted a  Zoloft attorney for advice.
[SmartLink zoloftlawsuit]