Judge Postpones Start of Yaz Lawsuit Bellwether Trial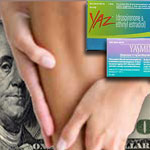 When Judge Herndon issued the order to postpone the first bellwether trial for the Illinois Yaz multidistrict legislation (MDL), he explained that he did not believe the "bellwether plan" would be in the best interests of either the plaintiffs, who allege that they were not properly warned about side effects of Yaz such as deep vein thrombosis, or the defendants. Instead, Judge Herndon appointed Professor Stephan Saltzburg, of the George Washington School of Law, to provide mediation "without delay."
Yaz lawsuit requests protective order
Just one day prior to signing the order for the bellwether plan, Judge Herndon granted a motion for protective order, as filed by the bellwether plaintiff's Yaz lawyers.
Sims v. Bayer et al. was the first lawsuit set for trial, making Kerry Sims the plaintiff for the scheduled Yaz bellwether trial. In her lawsuit, Sims alleges that she suffered pulmonary embolism from Yaz,  and was diagnosed on July 18, 2008.
Sims's condition, which is a secondary effect of blood clots and deep vein thrombosis (Yaz DVT), occurs when a blood clot dislodges and travels to the lungs.
On January 9, 2012, just weeks before the trial was set to commence, Sims' Yaz lawyer asked the court for a protective order disallowing Bayer, the defendant, to take a deposition from Dr. Vikram Rao, or to call him to testify during the trial. Dr. Rao works at St. John's Mercy Medical Center, and was the physician who interpreted Sims's chest x-ray two days before she was diagnosed with pulmonary embolism. Click here for more information on Yaz pulmonary embolism.
Judge grants motion from Yaz lawyer
Sims's lawyer argued that Dr. Rao's addition to the witness list on December 20, 2011 was untimely, since discovery had already been closed for months. The defense had been required to present its witness lists for the case by November 21, 2011 – a full month before Dr. Rao was added.
Furthermore, the plaintiff's Yaz lawyers argued that a deposition on January 3, just six days before the trial's scheduled start date of January 9, 2012, was "unduly prejudicial." Judge Herndon agreed, and on December 30, 2011 granted the motion. One day later, Judge Herndon issued another order to delay Sims v. Bayer et al.
Thousands of lawsuits allege Yaz blood clots
Presiding over the Illinois MDL, Judge Herndon will oversee thousands of lawsuits that allege serious side effects (learn more) including blood clots, deep vein thrombosis, and stroke.
Studies show that birth control pills containing drospirenone, such as Yaz and Yasmin, have a higher risk of blood clots than do pills that do not include drospirenone.
[SmartLink yazlawsuit]