New Jersey Zimmer Knee Lawsuits May Be Consolidated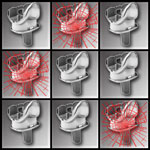 In December 2011, Zimmer, Inc. submitted an application to the New Jersey Supreme Court, requesting that all Zimmer knee lawsuits in the state be consolidated into centralized management. The medical device company made its request after Illinois consolidated 100 similar lawsuits into multidistrict litigation (MDL). The lawsuits in question all cite alleged Zimmer knee problems, including Zimmer NexGen knee failure requiring revision surgery to replace the implant.
Zimmer contends that consolidation would "ensure that these cases, and any future similar cases, proceed in an organized and judicially efficient fashion."
Centralization would apply only to certain Zimmer knee lawsuits
The device maker's request to consolidate litigation applies only to New Jersey Zimmer knee lawsuits that allege Zimmer knee problems related to certain NexGen Flex femoral components. These components include the CR-Flex, LPS-Flex, and those containing MIS Tibial parts.
Consolidating Zimmer knee lawsuits would Increase efficiency
One of the main goals of consolidation is to increase efficiency and conserve judicial resources. Lawsuits citing Zimmer knee problems related to devices outside the limited scope of the consolidated proceedings would require different discovery, documents and possible witnesses.
In Zimmer's own words, centralized case management in New Jersey would serve to "avoid duplicative discovery and inconsistent rulings, and promote the interests of justice and fairness." The company's application summarizes, "therefore… [other] cases would not benefit from coordination and would only complicate any coordinated proceeding."
Zimmer knee problems lawsuits: what venue for centralization?
Zimmer has proposed Middlesex County as a preferred venue for consolidated Zimmer knee lawsuits. The company's stated reason is that this county "is presently the least congested site for the administration of these cases."
Alternatively, Zimmer has also suggested Bergen County because it is "geographically convenient" and also "relatively uncongested.
Back in Illinois, federal MDL 2272 handles lawsuits from around the country filled by plaintiffs who allege to have experienced some form of Zimmer NexGen knee failure.
The MDL is set to begin in U.S. District Court for the Northern District of Illinois. Judge Rebecca R. Pallmeyer will preside. The lawsuits will address Zimmer knee problems like premature loosening, which can cause device failure, pain and other complications requiring Zimmer knee revision surgery.
[SmartLink zimmerkneelawsuit]