Vaginal Mesh Lawsuit Names Parent Company as Defendant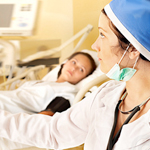 On June 20, 2011, Endo Pharmaceuticals Inc. acquired American Medical Systems, Inc. (AMS), a company that manufactures vaginal mesh devices. Since that time, Endo has been named as a defendant in multiple vaginal mesh lawsuits, which allege injuries derived from serious transvaginal mesh problems. However, whether Endo Pharmaceuticals can be held liable is still legally undetermined.
Plaintiff seeks damages for transvaginal mesh complications
On January 9, 2012, plaintiff Debra Styre filed a lawsuit in the Court of Common Pleas of Philadelphia County, Pennsylvania. Styre, an Arizona resident, claims that both AMS, and now Endo, are liable for her complications.
According to the complaint, Styre received an AMS mesh system on or around December 4, 2009; on January 11, 2010, Styre reported related pain to her urologist. The physician explained that "there was positive mesh erosion at the apex." Four days later, on January 15, 2010, Styre spoke with her gynecologist about her condition, and that doctor noted that Styre was experiencing "erosion of the graft at the vaginal cuff."
On July 13, 2011, the Food and Drug Administration (FDA) issued a consumer safety communication regarding  implant complications, stating that they were not uncommon and could include vaginal scarring, transvaginal mesh erosion, and neuromuscular problems.
Endo claims fraudulent joinder in vaginal mesh lawsuit
On February 2, 2012, Styre's case was issued a notice of removal that claimed Endo Pharmaceuticals had been fraudulently joined. The defendants contend that federal court – the U.S. District Court for the Eastern District of Pennsylvania – is the most appropriate venue for the lawsuit, since there is diversity of citizenship and Styre's claim exceeds $75,000.
Vaginal mesh side effects suit heads to federal court
Regarding Styre's vaginal mesh lawsuit, the defendants state that the plaintiff listed Endo Pharmaceuticals, as well as AMS, as defendants in order to prevent the lawsuit from going to federal court. They also contend that Endo, as a parent company, is not liable for the alleged acts of its subsidiary.
How juries will respond to these claims remains to be seen.  Meanwhile, women all over the country are also filing vaginal mesh lawsuits that name Endo and AMS among several additional defendants who manufacturer similar devices.
[SmartLink vaginalmeshlawsuit]