Britain Updates Guidelines for Metal Hip Implants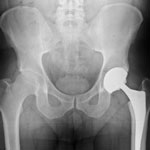 The New York Times recently reported that British health regulators, on the heels of the latest research results, have updated their guidelines for recipients of metal-on-metal hip implants. Before the update, these guidelines encouraged patients to practice careful medical monitoring of their hip replacements for five years after their surgeries. However, the new regulations state that patients should undergo annual monitoring for the entire life of the device, or about 15-20 years, barring early device failure.
According to Dr. Susanne Ludgate, the clinical director for the Medicines and Healthcare Product Regulatory Agency, "By monitoring patients every year, any complications will get picked up earlier and more complex surgery of the patient may be avoided."
Complaints of Zimmer hip implant failure
Some recipients of the metal-on-metal Durom Cup have filed lawsuit complaints seeking damages. These plaintiffs cite a range of complications from Zimmer hip, such as device loosening and metallosis, that may require revision surgery.
Metallosis, in particular, is a very serious condition; this type of metal poisoning occurs when components of a metal-on-metal hip implant rub together, releasing metallic particles into a patient's tissues and blood stream. This condition can cause inflammation of the soft tissues surrounding the hip, resulting in pain and other side effects.
No Zimmer hip replacement recall issued
Despite reports of hip failure, neither  the manufacturer nor the Food and Drug Administration (FDA) have issued a Zimmer hip implant recall.
In 2008, however, Zimmer issued a temporary three-month suspension of sales while it investigated adverse event reports, and in 2011, the FDA ordered metal-on-metal device manufacturers to investigate claims of metallosis.
Erica Jefferson, a spokesperson for the FDA, commented to CBS that the FDA is awaiting results of its own research into metal-on-metal hip devices, and that the British research and updated guidelines would not affect the agency's advice for U.S. patients. She explained that despite not issuing a recall, the FDA "continue[s] to recommend that hip replacement patients undergo regular follow-up with their physicians."
Guidelines help patients avoid Zimmer hip revision surgery
Though British research revealed problems with metal-on-metal implants, they have not recommended a cross-manufacturer recall. In the words of Deborah Cohen, British Medical Journal investigations editor, "This isn't the unlucky failure to spot the misdemeanors of one rogue company or the occasional unforeseen breakdown of a small number of devices… It is the inability to prevent a whole class of failing hip implant from being used in hundreds of thousands of people globally."
An estimated 250,000 patients receive hip surgery annually in the United States, and approximately 33% – more than 83,000 – reportedly receive metal-on-metal devices like Zimmer's Durom Cup. A growing number of patients who experience symptoms of Zimmer hip failure are consulting a Zimmer hip lawyer about the possibility of seeking compensation for medical bills by filing litigation.
[SmartLink zimmerhiplawsuit]