Chantix MDL Bellwether Trials Are Scheduled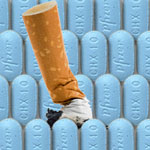 Eight Chantix side effects lawsuits have been chosen for bellwether trials in the ongoing multidistrict litigation (MDL) against the manufacturer of the smoking cessation drug, Pfizer. These trials will take place in the United States District Court for the Northern District of Alabama, overseen by Judge Inge P. Johnson. The judge has scheduled the first Chantix bellwether trial to begin on October 22, 2012, and the second to begin on the January 22, 2013.
These are both wrongful death lawsuits, filed by a plaintiff's Chantix lawyer, that deal with one of the most deadly Chantix side effects, Chantix suicide. Other bellwether trials will deal with Chantix side effects that did not result in fatalities. These will include Chantix depression, rage and aggressive behavior, and suicide attempts or suicide ideation.
Judge Inge P. Johnson, who is presiding over the entire Chantix multidistrict litigation, handed down this order with trial dates on March 16, 2012.
Chantix suicide deadliest of Chantix side effects
Plaintiff Judy Ann Whitely, who filed her Chantix lawsuit in June 2010, will be the first to see her lawsuit in court. She is filing a wrongful death lawsuit on behalf of her husband, Mark Alan Whitely, who, according to her lawsuit, committed suicide as a result of his Chantix use.
The second plaintiff has a similar Chantix suicide lawsuit: Katharine McClellan, whose case was originally filed by her Chantix lawyer in March of 2010. She is filing on behalf of her mother, Sandra Corey, who shot herself on July 24, 2008, after taking Chantix for nine months.
The Judicial Panel on Multidistrict Litigation consolidated Chantix lawsuit actions with similar details in the Northern District of Alabama in October of 2010. Originally involving more than 1,000 cases, the number of lawsuits involved in the Chantix MDL has nearly doubled at this date, and more cases continue to be filed.
Most of these lawsuits involve psychological Chantix side effects, which can include depression, aggressive behavior, Chantix suicide, and suicidal thoughts. There are also physical side effects, such as heart failure, being dealt with in Chantix lawsuit filings.
Chantix side effects warnings added by FDA
The Food and Drug Administration added a black box warning on Chantix packaging in 2009 which warned of psychological side effects that had been reported, including Chantix suicide. Plaintiffs claim that before this, Pfizer had a responsibility to warn them of potential side effects associated with the medication, and failed to do so. Chantix is a popular smoking cessation drug that was released onto the United States' pharmaceutical market in 2006.
[SmartLink chantixlawsuit]