Pennsylvania Zoloft Birth Defects Lawsuit Alleges Spina Bifida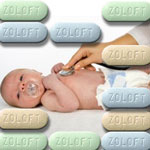 On December 13, 2011, Megan Armstrong filed a Zoloft lawsuit in the Eastern District of Pennsylvania. The plaintiff alleges that she took the antidepressant during pregnancy and as a result, her son, William Blaze Armstrong, was born with birth defects resulting from Zoloft, including hydrocephalus, spina bifida, and congenital birth defects.
Plaintiff alleges Zoloft side effects
In her lawsuit, Armstrong explains that she began taking Zoloft in 2006, while pregnant with her son. The plaintiff says that, at the time, she was not informed of the potential for Zoloft birth defects. Furthermore, had she understood the risk and extent of the side effects, Armstrong contends that she would never have taken the medication while pregnant.
Pfizer claims fraudulent joinder in Zoloft lawsuit
Armstrong's lawyers name as defendants both Pfizer, the manufacturer of Zoloft, and Wolters Kluwer, the company responsible for Zoloft patient monographs. The inclusion of Wolters Kluwer seems to be a trend in Zoloft lawsuits, as many plaintiffs have done the same.
According to the complaint, Wolters Kluwer should be held responsible for the accuracy of the information they publish. Pfizer, however, disagrees and has claimed that the company's inclusion is a case of fraudulent joinder in order to prevent Armstrong's Zoloft lawsuit from going to federal court.
Accordingly, Pfizer has requested that her Zoloft birth defects lawsuit be removed from the Court of Common Pleas in Pennsylvania and sent to the Eastern District Court of Pennsylvania in Philadelphia, where dozens of other Zoloft side effects lawsuits are currently awaiting trial.
Damages requested for Zoloft birth defects
Through her Zoloft lawyers, Armstrong contends that her son has "sustained in the past, or will sustain in the future, pain and suffering, mental anguish, embarrassment and humiliation, psychological injury and disability." He allegedly also suffers from disfigurement due to past surgeries, and will also require more surgeries that will in turn affect his future and quality of life.
To compensate for these damages to her son, Armstrong asks the court for treble, punitive and special damages for medical bills, legal fees, and lost wages.
[SmartLink zoloftlawsuit]