1,100 Plaintiffs in DePuy Hip Lawsuit MDL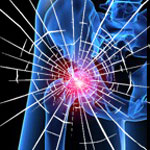 According to an April 2, 2012 master case list, DePuy lawsuit multidistrict litigation (MDL), which is consolidated into U.S. District Court for the Northern District of Texas, has grown to more than 1,000 complaints. These cases cite similar DePuy hip complications, although some Pinnacle hip replacement lawsuit plaintiffs object to joining the MDL. The complaints in question name not only DePuy as defendant, but also Thomas P. Schmalzried, M.D., a California-based surgeon and the designer of the Pinnacle hip implant.
DePuy Hip MDL
The master case list for the Pinnacle hip implant litigation originally listed 1,143 claims but within a day, had updated the total to 1,158 plaintiffs. These cases were consolidated into one court in order to streamline the legal process and reduce redundancy, since most plaintiffs make similar claims. Through their DePuy hip lawyer, most allege damages and injuries – pain, difficulty walking and standing, and tissue damage – related to premature device loosening and metallosis (metal poisoning), as well as hip revision surgery.
DePuy Hip Recall for Similar Implant
There are three styles of the Pinnacle device, and one is a metal-on-metal implant in which both the cup and ball are made of cobalt and chromium metals. Normal wear and tear may cause the components to leech metal particles into surrounding tissues and bone, and even into the blood stream, causing tissue damage and metallosis, a form of metal poisoning. While the Pinnacle hip implant remains available on the U.S. market, a similar metal-on-metal device, the DePuy ASR implant, was subject to a 2010 DePuy hip recall.
Doctor Liable for DePuy Hip Complications
DePuy lawsuit plaintiffs, with the help of a DePuy lawyer, hope to hold DePuy liable for their injuries. However, since Dr. Schmalzried helped make the product available, was quoted in multiple advertising brochures, and benefitted financially from Pinnacle hip sales, these DePuy lawsuit complaints state that he should also be found liable for their DePuy hip complications. In fact, Judge Pregerson, who presides over U.S. District Court for the Central District of California, already ruled that Dr. Schmalzried can be held legally liable. Nevertheless, some of these cases have been removed to the federal MDL under the implication that Dr. Schmalzried is a "sham" defendant and fraudulently joined.
[SmartLink depuyhiplawsuit]