Zimmer Knee Problems Blamed on Manufacturer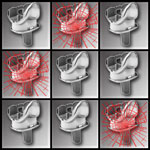 North Carolina plaintiffs Clifford and Ellen Garrison filed their Zimmer knee lawsuit with the help of a Zimmer knee lawyer on January 12, 2012 in the United States District Court for the Western District of Missouri. The case was recently consolidated in the Zimmer knee multidistrict litigation (MDL) that is currently taking place in the Northern District of Illinois. The MDL transfer took place on April 4, 2012.
The Zimmer knee lawsuit plaintiffs are claiming various injuries as well as loss of consortium based on side effects Mrs. Garrison allegedly experienced as a result of her use of the Zimmer knee replacement device.
Zimmer knee problems cited in lawsuit
According to the problems lawsuit, Mrs. Garrison was implanted with the Zimmer NexGen LPS-Flex system in her right knee on May 11, 2009. She claims that she suffered injuries as a result of her implantation that will eventually necessitate revision Zimmer knee implant surgery.
Her Zimmer knee lawyer says that the plaintiff has suffered severe and permanent injuries, as well as economic loss. Mr. Garrison is claiming that he suffered from loss of consortium and loss of spousal services because of the severe complications of knee surgery his wife experienced.
Has there been a Zimmer NexGen knee recall?
The LPS-Flex has never been the subject of a Zimmer NexGen knee recall, though the manufacturer did initiate a recall of specific MIS Tibial components used in conjunction with the Zimmer NexGen knee replacement system in 2010. This limited Zimmer NexGen knee recall did not involve the device as a whole.
Zimmer knee lawsuit cites component recalls
The Garrisons' Zimmer knee lawsuit was consolidated in the MDL because of diversity of citizenship, amount in demand, and the components at issue in the lawsuit.
[SmartLink zimmerkneelawsuit]