Actos Bladder Cancer Lawsuit Says Plaintiff Was Unaware of Drug's Risks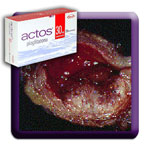 Monte Ann Dallas, a woman who developed bladder cancer from using Actos, has filed a lawsuit against manufacturer Takeda Pharmaceuticals and distributor Eli Lilly, claiming that because of the companies' inadequate warnings, she was not aware that using Actos could increase the risk of bladder cancer when she began taking the medication. Her husband, James Lee Dallas, is a co-plaintiff in the lawsuit, claiming loss of consortium.
According to the Actos lawsuit, which was filed in the Superior Court of Los Angeles County, , Monte Ann Dallas, took Actos to treat her Type 2 diabetes for three years, from May 2007 to May 2010. In 2009, she was diagnosed with bladder cancer, but it was not until years later that she realized there was a link between her bladder cancer and her Actos use.
Lawsuit accuses Takeda of "fraud and malice"
Dallas' attorney alleges in the lawsuit that even though early clinical studies on animals had shown a potential link between the drug and bladder cancer, Takeda ignored the evidence and went on to manufacture, distribute, and market distribute Actos as a safe and effective Type 2 diabetes medication. Not only did Takeda fail to adequately warn the public of the drug's risks, but the company actively withheld and suppressed information about the link between bladder cancer and Actos for 10 years, the lawsuit claims, stating that Takeda acted with "oppression, fraud and malice" by willfully hiding this vital information from the public and the medical community.
France and Germany took drug off the market, but no Actos recall in the U.S.
It was not until 2011 that the general public became aware of the risk of developing bladder cancer from using Actos. That year, the European Medicine Agency and health agencies in France and Germany issued warnings that using Actos for one year or longer increased the risk of bladder cancer. France and Germany subsequently took Actos off the market. In the U.S., the FDA issued a public warning of the risk, but there was no Actos recall.
Dallas' lawsuit seeks general, special, punitive and exemplary damages as compensation for pain and suffering, lost income, and medical bills.
[SmartLink actoslawsuit]