Actos Informer Calls Out Company Fraud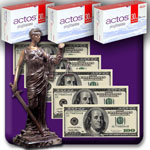 Helen Ge, a former employee of Actos drugmaker Takeda Pharmaceuticals, has filed a whistleblowing lawsuit against the manufacturer, claiming that they made fraudulent decisions in an effort to hide Actos side effects from the Food and Drug Administration and from the general public. Although the lawsuit, which was filed in Boston, was filed in 2010, it was only recently made public. Plaintiff Ge is a former medical reviewer for the drug makers, and is bringing charges of fraud against them. A number of plaintiffs have filed lawsuits claiming to have developed bladder cancer resulting from Actos, but despite this neither Takeda Pharmaceuticals nor the United States' Food and Drug Administration have initiated a recall of Actos.
Actos heart failure data concealed
Actos heart failure is the side effect Ge says Takeda concealed the most fastidiously; her lawsuit says that the company deliberately misclassified "non-hospitalized or non-fatal" congestive heart failure cases as less serious in the FDA's adverse event reporting system, which would raise fewer red flags. Plaintiff Ge claims that Takeda was fraudulent in their representation of this information in order to preserve profits from Actos, which account for 27 percent of Takeda's profits last year, a very significant portion. The type II diabetes drug is extremely popular and as a result Takeda wants to keep it on the market in order to maximize their financial gain.
Others believe that Takeda hid data because they wanted to prevent an Actos recall from taking place in the United States, although one took place in France in 2011 and Germany suspended sales of the medication. At this point, however, Actos is still on the market and being prescribed to patients with type II diabetes.
FDA reviewing Actos data
The Food and Drug Administration is currently reviewing the risks of Actos, and if they conclude that the medication will cause serious adverse health consequences and/or death, it is likely that they will recall the medication. They have already issued several warnings about the risks associated with Actos use and the possibility of bladder cancer. Plaintiffs across the country are enlisting the help of Actos attorneys in order to hopefully win compensation from the drug makers that could help cover their side effects.
[SmartLink actoslawsuit]