California Plaintiff Suffers Permanent Transvaginal Mesh Complications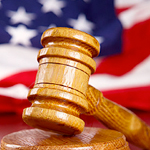 On May 1, 2012, a California couple – wife and husband – filed a lawsuit citing transvaginal mesh problems. The complaint, which was filed in U.S. District Court for the District of Massachusetts, names Boston Scientific as defendant and alleges that the company's Obtryx Transobturator Mid-Urethral Sling System is responsible for the co-plaintiff's vaginal mesh complications.
Plaintiff claims persistent transvaginal mesh complications
The plaintiffs' lawyer states that the before her 2008 surgery, the plaintiff had been unaware of problems associated with vaginal mesh devices. The plaintiff underwent surgery to correct her stress urinary incontinence (SUI) and chronic pelvic pain, and the procedure was declared a success. However, soon after surgery she began to experience transvaginal mesh problems including dyspareunia (painful intercourse), pain, incontinence, urinary infections and related problems. In 2010, plaintiff Roach underwent corrective surgery, but her lawsuit states that her problems persisted.
Transvaginal mesh problems stem from device erosion and extrusion
Unfortunately, transvaginal mesh complications are not uncommon. The U.S. Food and Drug Administration (FDA) first approved vaginal mesh to treat SUI in 1996, and soon after reports of problems began. Common issues include chronic abdominal and pelvic pain, urinary tract infections, infections near the implant site, and painful intercourse. One of the main causes is vaginal mesh erosion – when a vaginal mesh device erodes through the vagina and into neighboring tissue and organs. A similar complication is vaginal mesh extrusion, which occurs when the mesh device protrude outside of the vagina. Both causes lead to painful and sometime lifelong transvaginal mesh problems.
Vaginal mesh lawyers request compensation of injuries
Fifteen years after approving the first vaginal mesh devices, the FDA issued a public warning in July 2011 to inform the public that vaginal mesh complications were not uncommon. At that time, the FDA also stated that transvaginal mesh products have proven no more effective at treating SUI and pelvic organ prolapse (POP) than other, safer devices.
For Plaintiff Roach and other victims of vaginal mesh problems, the FDA's warnings came too late. After filing vaginal mesh lawsuits, these women and their partners hope for compensation of their pain and suffering. Plaintiff Roach has requested punitive, exemplary and compensatory damages over $75,000 and notes damages including medical expenses, permanent injury, and lost wages. Her husband also claims loss of consortium.
[SmartLink vaginalmeshlawsuit]