Canada Strengthens Actos Cancer Warning Label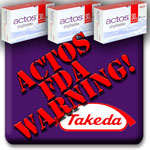 Health Canada, the Canadian equivalent of the United States' Food and Drug Administration, has recently announced on the 19th of April, 2012, that they are strengthening the side effects warnings on the packaging, namely for heart failure and bladder cancer from Actos. The organization conducted a safety review in 2011 that revealed that high doses or long term use of the medication can result in an increased risk of bladder cancer for a patient. The plan to conduct this study was made public on the 17th of June, 2011, after both France and Germany issued respective recalls and the United States strengthened warning labels. Health Canada announced that ti was to be conducting a study that would review the safety of the type II diabetes medication.
Bladder cancer, other side effects mar Actos
A number of studies have shown that the long-term use of Actos, or use of a particularly high dose, could increase a patient's risk of experiencing adverse side effects, including heart failure and bladder cancer. These conditions can be life-threatening and often require expensive treatment, which has led to a number of lawsuits that have been filed worldwide against drug maker Takeda Pharmaceuticals. Plaintiffs involved in Actos litigation are likely to claim that the drug maker was aware of the side effects associated with the medication, and failed to adequately warn them of the potential side effects of the drug.
Health Canada is recommending that patients who have a history, whether family or personal, of bladder cancer should not take Actos for the treatment of their diabetes. In addition, patients with a history of blood in the urine should not take the medication. Patients who are already taking  and have concerns should consult their prescribing physician about them.
Actos lawsuits consolidated
Many lawsuits filed in the United States against drug maker Takeda Pharmaceuticals have been consolidated into multidistrict litigation taking place in the United States' District Court for the Western District of Louisiana. Canada's answer to this litigation consolidation is a class action lawsuit dealing with bladder cancer that was filed in December of 2011.
[SmartLink actoslawsuit]