Chantix Alabama MDL Grows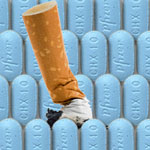 A new lawsuit has been added to the ongoing multidistrict litigation case that is taking place in the United States' District Court for the Southern District of Alabama. Gordon C. Loftis' case was filed by his lawyer in the multidistrict litigation case on the 23rd of April, 2012. It will join more than 2,400 other cases filed by plaintiffs who have experienced severe side effects of Chantix as a result of their use of the popular and effective smoking cessation medication. Loftis' lawsuit claims that he experienced depression and suicide ideation as a result of his use of the medication. Other side effects associated with Chantix include Stevens-Johnson Syndrome, diabetes, depression, anxiety, heart attack, and suicide after Chantix use.
Suicide attempt leads to Chantix lawsuit filing
Loftis hired his attorney after he attempted suicide as a result of suffering from depression and anxiety after he started using the medication to help him quit smoking. The link between Chantix and suicide is still unclear, but a number of studies have shown that it exists–the Food and Drug Administration released a public health advisory on the first of February, 2008, warning the public about the risk of suicide. A year later, in 2009, the Administration required that drug maker Pfizer place a black box warning on the labels that would address the risk of psychological side effects, including aggression, mood swings, hostility, and depression. Loftis says in his lawsuit that this warning label was introduced about a year after he began taking the medication.
Chantix MDL moves forward
Plaintiffs involved in the Alabama multidistrict litigation case are claiming that they were not adequately warned by the drug maker about its side effects. They claim that drug maker Pfizer made, marketed, and sold a faulty and dangerous product to users without warning them of the risks associated with their use of the medication. Bellwether trials in the MDL are set to begin in October.
[SmartLink chantixlawsuit]