Chantix Suicide Sparks Lawsuit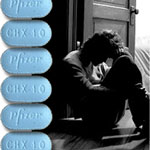 Jayne and Rickey Lee Graham have become some of the latest plaintiffs to file Chantix litigation, this one on behalf of decedent Jeremy Graham, who allegedly committed suicide after using Chantix. The Chantix lawsuit was filed with the help of a Chantix lawyer who is helping the Grahams sue drug maker Pfizer for damages that would help cover the losses they incurred because of the Chantix side effects their loved one experienced. The lawsuit was originally filed in the United States District Court for the Western District of North Carolina on the 20th of March, 2012. It was transferred to the current, ongoing Chantix MDL that is taking place in the United States' District Court for the Northern District of Alabama on the 13th of March, 2012, where a number of other Chantix lawsuits have been combined for their pretrial processes to be completed.
Lawsuit claims product was defective
According to the lawsuit, Jeremy Graham was originally prescribed the popular drug Chantix in order to help him stop smoking, and shortly thereafter began to experience side effects including manic, aggressive, and violent behavior. He eventually, according to the suit filed by the Grahams, suffered a psychotic disorder that resulted in his suicide.
The consolidation of Chantix lawsuits by the Judicial Panel on Multidistrict Litigation took place in October of 2010, combining dozens of lawsuits filed by plaintiffs complaining of Chantix depression and suicide, Chantix heart problems, and other serious complications that have been linked to use of the medication. Chantix is a popular and effective smoking cessation medication, but it has been linked to a number of serious side effects that have sparked a significant amount of lawsuits.
Bellwether trials set to begin
Judge Inge P. Johnson, who is presiding over many Chantix side effects lawsuits involved in the multidistrict litigation case, scheduled preliminary Chantix bellwether trials for the 22nd of October, 2012, and the 22nd of January, 2013. These lawsuits both involve cases of Chantix suicide and wrongful death because of the medication.
[SmartLink chantixlawsuit]