Club Feet Among Birth Defects Caused by Zoloft, Lawsuit Charges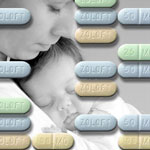 Tylanda Kidd, a mother who took anti-depressant Zoloft (sertraline) during her pregnancy, is suing drug manufacturer Pfizer, alleging that her baby suffered birth defects after Zoloft use. Her lawsuit was filed on April 20, 2012 in Pennsylvania Eastern District Court in Philadelphia.
Kidd's son was born with birth defects including bilaterial clubbed feet, which the lawsuit claims were caused by her Zoloft use during pregnancy. Doctors tried to correct the condition with casts, but the attempts failed, and in 2007, when the baby was nine months old, he required surgery for his club feet. He is now five years old, and according to Kidd's Zoloft attorneys, he "continues to suffer physically and emotionally."
Studies find risk of Zoloft side effects
According to the lawsuit, before approval by the FDA in 1991 and placement on the market, Pfizer conducted animal trials which found that the drug caused side effects in animal fetuses. Yet Pfizer still put the drug on the market and did not warn doctors or patients of the risks associated with taking the drug during pregnancy.
In the years since Zoloft was approved, many lawsuits have been filed claiming the drug caused birth defects. In addition, a number of studies have confirmed its side effects along with other SSRI medications, including Paxil and Prozac.
In 2005, the FDA required a black box warning be added to the label warning that Zoloft could increase the risk of suicidal tendencies in children and adolescents. In 2007, the FDA required the black box warning to be updated to include the risks of heart defects and persistent pulmonary hypertension in newborns (PPHN) when taken during pregnancy.
Many other birth defects cited in Zoloft lawsuits
The many pending lawsuits cite a host of serious birth defects, including the aforementioned clubbed feet and PPHN as well as congenital heart defects, cleft lip and cleft palate, limb abnormalities, abdominal defects, omphalocele (a condition in which the baby's intestine or other abdominal organs stick out of the navel), neural tube defects, craniosynostosis (a malformed skull), and anal atresia (the partial or complete closure of the anus).
[SmartLink zoloftlawsuit]