DePuy Hip Lawsuit MDL Moving Forward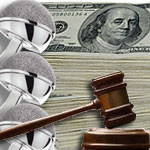 The early stages of the pending DePuy Pinnacle Hip MDL are proceeding smoothly. Following an April 25, 2012 meeting of U.S. District Judge Ed Kinkeade and each side's Pinnacle hip lawyer, the judge indicated that within six weeks, a case management outline for managing the pretrial process would be announced. The MDL is located in the U.S. District Court for the Northern District of Texas
The first trials in the MDL will be bellwether trials: representative cases tried first so that the judge and attorneys for both sides can see how juries will respond to evidence that is common to all the lawsuits in the MDL. This information can be used in negotiating future settlements or as precedents for judgments in later trials.
Lawsuits charge DePuy with failure to warn
While the specifics of individual cases may vary, each DePuy lawsuit in the MDL makes certain common claim: that the plaintiff suffered from serious complications after being implanted with a hip device, and that the manufacturer is to blame for failure to warn patients and the medical community about the dangers associated with the product.
The plaintiffs claim complications including metal poisoning after DePuy hip implant, device loosening, pain, immobility, stiffness, and the need for revision surgery. Approximately 1,245 people have filed a hip lawsuit after suffering these complications. In addition to the MDL in Texas, litigation is pending in Georgia and California.
Although a previous metal hip device was recalled in 2010, the Pinnacle remains on the market.
Study finds metal-on-metal implants have high failure rate
Recently, a British study found that after five years, metal-on-metal hip implants are two-and-a-half times more likely to fail than ceramic or plastic implants. The study examined the outcomes of more than 400,000 hip replacement surgeries between 2003 and 2011, using data from the National Joint Registry of England and Wales, and found that after five years nearly 6 percent of the metal hips had failed and required revision surgery to repair or replace them, versus only 1.7 percent of the plastic or ceramic hips. The study concluded that metal-on-metal implants "give poor implant survival compared with other options and should not be implanted."
[SmartLink depuyhiplawsuit]