DePuy Lawsuit Dismissed After Filing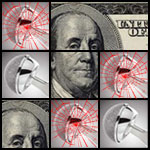 A couple who filed a DePuy hip lawsuit after the wife experienced serious complications, saw their lawsuit thrown out after it was decided that there was a lack of jurisdiction involved. The lawsuit was originally filed by California residents Marjorie and Cliff Franks with the help of a lawyer on the 21st of February, 2012, and was thrown out by Judge Larry A. Burns of the United States' District Court of the Southern District of California after he said that one of the three defendants, Dr. Thomas Schmalzreid, because he lived in California, caused a lack of jurisdiction. The other defendants named in the case were device manufacturers DePuy Orthopedics and parent company Johnson & Johnson.
Lawsuit claims plaintiffs unaware of recall
According to the lawsuit filed by the plaintiffs, Mrs. Franks was implanted with the Pinnacle hip replacement system in March of 2008 and began experiencing side effects and complications, including pain and discomfort in her hip and leg, shortly thereafter. She underwent a blood test in April of 2011 that showed she had elevated levels of cobalt and chromium in her bloodstream which, combined with the fact that she was using a metal on metal hip replacement system, was relatively indicative of metallosis, or metal poisoning. This is a kind of metal poisoning that takes place when a patient has metal in their bloodstream because a metal on metal joint replacement system has deposited flakes of it into the blood and surrounding tissues of the patient.
She says she became aware of the 2010 DePuy hip implant recall only after she began to suffer from complications.
Hip lawyer asks judge to reconsider case
The Frank's hip lawyer said that he had been too busy to respond to the court's request for any responses to the dismissal of the case during the time allotted, and is asking that the plaintiffs' case be reinstated or moved to another court.
[SmartLink depuyhiplawsuit]