New Lawsuit Alleges Birth Defects Resulting from Zoloft Use During Pregnancy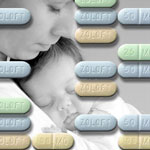 The popular SSRI antidepressant Zoloft has been implicated in yet another lawsuit. This particular suit relates to birth defects resulting from Zoloft. The plaintiffs, Heather Kathleen Edwards and her daughter Hallie, are suing drug manufacturer Pfizer for failing to properly warn about the possibility of side effects after taking Zoloft.
Abdominal hernia can be one of many serious side effects after taking Zoloft
Hallie was born on May 5, 2010 suffering from gastroschisis, a serious defect in which a fetus develops a hole in the abdominal wall during gestation, causing the intestines and other abdominal organs to grow outside the fetal abdomen. This condition is also known as an abdominal hernia. Babies born with the condition are forced to undergo immediate corrective surgery and constant monitoring. Sometimes, if immediate corrective surgery is not possible or if the organs do not fit inside the abdominal cavity, the external organs must be kept in a "silo" on the abdomen for a period of time until the abdominal wall can enclose the organs. Babies born with gastroschisis have an increased risk of stillbirth and low birth weight.
Zoloft lawsuit claims Pfizer failed to warn
Heather began treatment with Zoloft in 2007, but claims she had no knowledge and no reason to believe her baby could be born with birth defects resulting from Zoloft. Her lawsuit claims that Pfizer had ample evidence correlating Zoloft use by mothers during pregnancy with resultant birth defects, however failed to issue any sort of warning. Her lawsuit references a number of studies, including one published in the New England Journal of Medicine tying SSRI antidepressants with such birth defects as persistent pulmonary hypertension caused by Zoloft in newborns, septal heart defects, low birth weight, cleft lip, club foot, and cranial and abdominal defects.
Heather further accuses Pfizer of having the knowledge, means and duty to warn consumers about the risks of birth defects. Her suit references an FDA regulation stipulating, "a causal link need not have been proven to issue new warnings," which she claims demonstrates Pfizer's moral, if not legal obligation to warn consumers. She is suing for faulty product design, failure to warn, negligence, breach of warranty, fraud and unjust enrichment. Her lawsuit has been filed in the U.S. District Court in the Southern District of New York.
[SmartLink zoloftlawsuit]