Wrongful Death Actos Suit Filed Against Takeda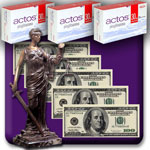 A widow has filed a lawsuit against the manufacturer of the type II diabetes medication sold as Actos after her husband, George Ivkov, died as a result of Actos bladder cancer. Carol Ivkov filed her lawsuit in the consolidated proceedings taking place in the Circuit Court of Cook County, Illinois, and is seeking over $50,000 in compensation for the injuries and loss suffered by her and her husband. The lawsuit claims that Mr. Ivkov began taking Actos in order to control his type II diabetes in 2005, and that he took the medication in accordance with the instructions given to him by his physician. As a result, the lawsuit claims that he developed side effects including bladder cancer that caused him to pass away on the 19th of June, 2009.
Actos side effects claimed as responsible
Ivkov's widow claims that Actos is a defective product and is unreasonably dangerous. She also claims in her lawsuit that Takeda didn't appropriately or adequately warn about the side effects possible with Actos use, nor did they advise that longer-term use of the drug could result in the development of Actos bladder cancer. The lawsuit further claims that the defendants, Takeda Pharmaceuticals, didn't adequately research or test the possibility of side effects associated with their medication. The plaintiff is filing her lawsuit on behalf of herself, as the spouse of Mr. Ivkov, and their three children.
Without Mr. Ivkov, the lawsuit says, she and her three children have been "deprived of the support, affection, society, companionship, and consortium with the Decedent, George Ivkov, was accustomed to perform for them and would have continued to but for his death." One major concern of many who have experienced Actos side effects is that the Food and Drug Administration did not warn about the risk of serious side effects associated with the medication, including bladder cancer, until June of 2011—which was too late for many patients, including George Ivkov.
Wrongful death suits filed nationwide
Unfortunately, the use of Actos has led to the need for several wrongful death lawsuits that have been brought against Takeda. Lawsuits like Ivkov's are not rare. Plaintiffs seek compensation for the losses and injuries they have suffered, hoping that damages will help to cover bereavement costs.
[SmartLink actoslawsuit]