Zimmer Hip Litigation Claims Manufacturer was Negligent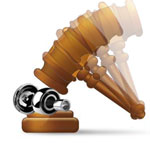 Yet another plaintiff has filed a lawsuit against the medical device manufacturer relating to complications from Zimmer hip implant. In the lawsuit filed on January 18, 2012, California resident Douglas Thompson claims that due to the defective design of his implant, he was forced to undergo revision surgery for Zimmer hip components years after his initial implantation surgery.
Complications from Zimmer Hip Resulted In Pain and Device Loosening
Thompson claims that he had a total arthroplasty of the right hip in January of 2007, during which surgeons removed all of the components of his hip and replaced them with a Durom Cup hip implant. More than four years later, Thompson began to suffer from pain and other complications where he had received his implant in his right hip, which ultimately forced him to undergo revision surgery for hip complications.
In the lawsuit, which was filed in the California Superior Court of Los Angeles, Thompson's Zimmer hip attorneys claim that the complications resulting from his implant were due to an inherent design defect that compromised the integrity of the device, despite it being used as the manufacturer directed. The lawsuit further alleges that the manufacturer failed to properly issue a recall to consumers and medical professionals regarding replacement of the faulty implant.
Zimmer Hip Lawsuits Increase as FDA Announces Increased Scrutiny
Thompson joins a slew of other hip replacement patients that have filed lawsuit against Zimmer for design defects in their various hip replacement devices. Plaintiffs complain of symptoms such as device loosening and metal poisoning, which result from the components of the devices rubbing against one another and releasing toxins into the blood stream.
Possibly in response to the numerous adverse reports and lawsuits being filed against hip replacement manufacturers, the FDA has recently announced it will review metal-on-metal implants for safety and quality, and to ensure continued reliability and issue revised safety recommendations.
[SmartLink zimmerhiplawsuit]