Zimmer Holdings Stock Rises Despite Litigation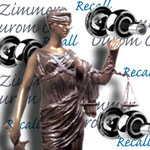 Despite mounting litigation against the orthopedics manufacturing giant, Zimmer Orthopedics has actually reported an increase in profits for the first quarter of this year. According to Fox Business, in the first quarter of 2011 Zimmer reported a profit of $208.9 million, and this year they reported a $209.6 million profit, which is a fairly significant increase. The profit increase is at least in part due to the sales of its hip replacement systems, despite the controversy surrounding these devices, as they noted an increase of about 2 percent in hip and knee sales.
Early Zimmer hip failure alleged
This increase in profits may be surprising to some, especially because of the number of lawsuits being filed nationwide against device manufacturer Zimmer. Dozens of patients have decided to file a Zimmer hip lawsuit with the help of a lawyer in order to win compensation for the hip failure and resulting side effects they experienced as a result of their use of the device. These plaintiffs are seeking settlements for Zimmer hip injuries from the hip implant manufacturer, and are attempting to claim damages, which may include early implant failure, dislocation, metallosis (metal poisoning), and even the need for a second, riskier surgery, which is also known as hip revision surgery.
Despite the reports of serious side effects and early implant failure, neither device manufacturer Zimmer nor the Food and Drug Administration have initiated a recall, although Zimmer did pull their Durom Cup device temporarily in 2008. They re-released the product to the market with claims that design defect was not to blame for any complications patients might experience after being implanted with the device, and that surgical methods must have been faulty in these cases.
Zimmer hip lawsuits claim a number of symptoms
Zimmer hip implant lawsuit actions have included reports of pain, dislocation, reduced mobility, and other side effects that have a serious impact on a patient's quality of life.
[SmartLink zimmerhiplawsuit]