Zimmer Lawsuits Excluded from Proceedings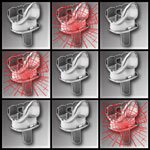 Four lawsuits relating to the Zimmer NexGen knee replacement system have been excluded from multidistrict litigation proceedings after it was decided on the 3rd of May, 2012, that four out of 14 contested cases should be sent back to the courts in which they were originally filed. These cases will now proceed in these courts as any other individual case would. The Judicial Panel on Multidistrict Litigation made the decision to move these lawsuits from the multidistrict litigation case currently taking place in the United States' District Court for the Northern District of Illinois. The defendants have narrowed the scope of the lawsuits by arguing that the multidistrict litigation consolidation should deal only with cases involving the NexGen Flex Femoral Component or the MIS Tibial Component.
Plaintiffs argue for wider scope
Plaintiffs who have filed a Zimmer knee lawsuit are opposing this decision, saying that the multidistrict litigation case was originally intended to help plaintiffs who had issues with any of Zimmer's NexGen-branded knee components. Patients who have had Zimmer knee implant surgery and subsequently experienced the serious side effects associated with Zimmer NexGen knee replacement systems are aware of the importance of litigation, as damages won in these lawsuits could help provide compensation for medical bills, lost wages, and other costs associated with the hip replacement systems. Only seven components of the knee replacement systems would be considered in multidistrict litigation lawsuits if the defendants had their way, but the plaintiffs argue that all 40 NexGen components should be considered in the ongoing litigation.
Two of the remanded cases originate from Minnesota, while the others are from Pennsylvania and Michigan. It is unclear whether or not any of the ten remaining cases will also be remanded to the courts from which they originated.
Zimmer knee recall still not in place
Although a number of patients have complained of knee failure and other serious complications after being implanted with the Zimmer NexGen knee replacement systems or its components, neither Zimmer nor the Food and Drug Administration have yet issued a Zimmer knee recall. Some view this as a serious oversight for a knee replacement system that has done serious harm to a number of patients.
[SmartLink zimmerkneelawsuit]