Zimmer Opposes Transfer of Two Cases to MDL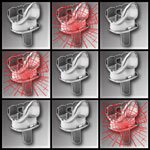 Zimmer Orthopaedics, Inc. has voiced its opposition to transferring two lawsuits to the U.S. District Court for the Northern District of Illinois, headquarters for the Zimmer NexGen knee MDL. Multidistrict litigation was established to consolidate similar lawsuits and streamline legal processes for a growing number of complaints. The Judicial Panel on Multidistrict Litigation has agreed to consider without oral argument Zimmer's opposition on May 31, 2012 in Washington, D.C.
Illinois MDL only for specific Zimmer knee lawsuits
Zimmer states that the Illinois MDL involves only claims related to alleged problems with the MIS Tibial Component or the NexGen Flex Femoral Component. The two lawsuits in question, which were filed by  lawyers in Minnesota and Missouri, reference other NexGen products, a fact that Zimmer cites as reason for its opposition to their transfer.
Missouri plaintiff undergoes revision surgery for Zimmer knee problems
According to his lawsuit, Missouri plaintiff Gene Wernette received a double knee replacement in 2009. Wernette states that he received Zimmer's stemmed tibial and femoral components, as well as a 10 mm articular surface, in this right knee; in his left, he was implanted with Zimmer's NexGen LPS-Flex, and also stemmed tibial and femoral components. Wernette's lawsuit alleges that implants in both of knees began to show signs of loosening, and eventually dislocation, in 2010. In 2011, Wernette underwent revision surgery after experiencing Zimmer knee failure. His lawsuit requests punitive and compensatory damages.
Zimmer NexGen knee lawsuit requests damages
The second case in question belongs to Sheila Madsen, an Oregon resident who filed her case on February 24, 2012 in Minnesota federal court. Madsen's lawyer states that on September 1, 2009, the plaintiff received a Zimmer NexGen LPS-Flex. Madsen's alleged problems were swift and severe, requiring her to undergo a second Zimmer knee surgery just six months later. Madsen requests damages for her pain and suffering, as well as economic losses.
[SmartLink zimmerkneelawsuit]