Zoloft Plaintiff Claims Pfizer Knew Risk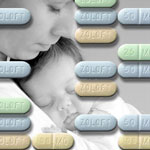 A Florida Zoloft litigation plaintiff has become one of the latest people to become involved in the birth defects claims after she filed her suit in the multidistrict litigation case in the United States District Court of the Eastern District of Pennsylvania. 57 original cases and a number of tag-along cases have also been consolidated in this multidistrict litigation lawsuit. Mamie Hampton filed her lawsuit after her child, known in the lawsuit as O.H., was born with birth defects from Zoloft. She claims that drug maker Pfizer was aware of the risk of side effects associated with the popular antidepressant medication and should have done more to warn patients about the side effects risk associated with the medication.
Pfizer blamed for congenital birth defects
Plaintiff Hampton claims that she took the antidepressant during her pregnancy in order to treat and control the symptoms of depression, anxiety, or other psychological conditions the drug has proven effective at treating. Her child, who is also named as a plaintiff in the lawsuit, was born with multiple congenital birth defects, allegedly as a result of Hampton's use of Zoloft during pregnancy. The child has already received treatment for her birth defects but will likely continue to have to endure medical care as a result of her side effects for the rest of her life.
The lawsuit claims that drug making giant Pfizer was aware of the risks and did not adequately inform patients about the side effects associated with the use of the medication, and therefore put her and other patients at risk of giving birth to a child with Zoloft birth defects. A number of studies have proven the link between Zoloft use and birth defects, including PPHN, or persistent pulmonary hypertension of the newborn.
Pfizer indicted for failure to warn
According to Hampton's lawsuit, which was filed on the 24th of April 2012, Pfizer had the knowledge, means, and duty to warn patients and the medical community about the risk of birth defects; however, they did not. Hampton and her minor child are asking for more than $75,000 in compensation for the child's injuries from Pfizer and are bringing counts of failure to warn, defective design, fraud, and negligence against the drug maker.
[SmartLink zoloftlawsuit]