Actos MDL Grows in Louisiana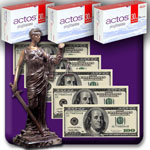 The current multi district litigation case dealing with the type II diabetes drug Actos has recently grown by one lawsuit dealing with the case of an Indiana man who allegedly developed bladder cancer after taking the medication. Ralph Penrod of Hartford City filed his lawsuit against drug maker Takeda on the 25th of May, 2012, in the United States' District Court for the Western District of Louisiana in Lafayette, where the multi district litigation case is taking place. According to his lawsuit, the plaintiff was prescribed the medication in 2003 in order to help treat his type II diabetes. He took the medication, he says, until April of 2011 and developed bladder cancer, for which he underwent surgery in August of 2011. He is claiming in his suit against Takeda that he experienced "severe mental and physical pain and suffering, mental anguish, emotional distress, incurred medical expenses, and living related expenses" as a result of the side effects he experienced after taking the medication.
Takeda charged with number of offenses
Penrod's lawsuit charges the drug manufacturer with strict liability, negligence, breach of implied and express warranties, unjust enrichment, and fraudulent concealment, for which he is seeking damages that will total more than $75,000. He claims that the drug manufacturer either knew or should have known about the potential side effects associated with the medication they distribute, and a number of studies have been cited by Penrod and other plaintiffs who have chosen to file an Actos lawsuit that outline the link between Actos use and the risk of bladder cancer. France and Germany have suspended sales of the drug, and many consumers and medical experts are hoping that the United States will do the same. The Food and Drug Administration has issued a public safety announcement regarding use of the medication which warned patients that "use of the diabetes medication Actos (pioglitazone) for more than one year may be associated with an increased risk of bladder cancer."
Lawsuits mount in courts nationwide
The lawsuit filed by Penrod and his Actos lawyers claims that had he known about the side effects that have since been linked to Actos he would not have taken the medication. This sentiment is shared by a number of patients who have filed these lawsuits nationwide. More and more patients are contacting personal injury lawyers in order to initiate litigation against drug manufacturer Takeda after experiencing serious side effects.
[SmartLink actoslawsuit]