DePuy ASR Lawsuit Filed by California Plaintiff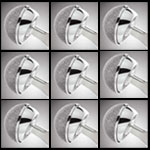 In 2008, Douglas Sutphin of Encinitas, California had DePuy hip surgery involving a total hip replacement in which he was fitted with the DePuy ASR Acetabular hip system. The hip replacement was supposed to solve his hip problems. Instead, over the following two years, he began to experience pain, physical impairment, and loss of mobility. In 2010, his doctor told him that the DePuy ASR model that had been implanted in him was being recalled. He was forced to undergo revision surgery to remove the defective hip and replace it with a different model.
Sutphin consulted a DePuy hip lawyer and has filed a lawsuit against the manufacturer – the latest of many lawsuits over the DePuy ASR hip.
Lawsuit claims that DePuy failed to warn patients and doctors
Sutphin's 13-count DePuy ASR lawsuit alleges that DePuy knew, or should have known, about the ASR implant's defects and should have recalled the device long before 2010. It goes on to state that if DePuy had properly tested the ASR system before putting it on the market and/or issued a recall as soon as its defects became apparent, Sutphin would not have been injured. The lawsuit charges that DePuy failed to warn doctors or patients about the dangers posed by the ASR system, and fraudulently concealed the device's defects.
Metal-on-metal hip implants have high failure rate
Metal-on-metal hip implants like the recalled ASR system have been shown to be problematic, with patients suffering complications including metal poisoning, loosening of implant, pain, loss of mobility, dislocation, and infection. Many patients who have suffered such complications have consulted with a DePuy hip lawyer and gone on to file a lawsuit against the company.
A British study funded by the National Joint Registry that analyzed the outcomes of 400,000 hip replacement surgeries from 2001 to 2011 found that within five years of being implanted, nearly 6 percent of metal hip implants failed – a rate two-and-a-half to three times the failure rate of ceramic or plastic hips.  A separate investigation carried out by the British Medical Journal and BBC News found that metal-on-metal hips can leak metal ions into the patient's body which can then seep into the patient's tissue, damaging muscle and bone, and in some cases causing patients long-term disabilities.
[SmartLink depuyhiplawsuit]