Idaho Couple Allowed More Time to Discuss Settlement Compensation for Zimmer Hip Injuries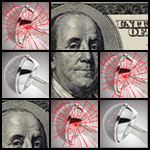 U.S. District Judge Madeline Cox Arleo has granted Idaho residents Douglas and Noreen Davis an extension to negotiate settlement in their lawsuit seeking compensation for Zimmer hip injuries. The Davis's filed their lawsuit against Zimmer Holdings, Inc., claiming that the company's Durom Cup hip implant caused Douglas serious and debilitating injuries that affected his quality of life. With the granting of their motion to delay, both parties will have additional time to attempt to reach settlement without the need for court intervention.
In their original complaint, filed on October 10, 2011, the Davis's claim that Douglas experienced hip problems resulting from Zimmer implant after implantation surgery. Douglas received the controversial metal-on-metal Durom Cup hip replacement device in both of his hips, and since his procedure he has experienced pain and restricted movement. He worries that he may be forced to undergo Zimmer hip revision surgery in the future.
Zimmer hip litigation transferred to New Jersey MDL
The Davis's complaint was transferred to the ongoing New Jersey Zimmer hip MDL two months later. Since being served with the complaint on January 3, 2012, Zimmer's attorneys have requested several extensions to respond to complaint in the hopes of resolving the issue without progressing to court. However, settlement discussions have been delayed because of Douglas's medical concerns, compelling the most recent request on behalf of the plaintiffs for an additional extension. They have been granted until September 1, 2012 to serve their complaint.
FDA to review hip problems resulting from Zimmer implant, other metal-on-metal devices
Zimmer's Durom Cup hip device has been the subject of extensive Zimmer Hip litigation, as well as increased scrutiny by regulatory agencies. The FDA recently announced that it would hold a two-day intensive review of metal-on-metal artificial joint implants like the Durom Cup to determine what sort of action should be taken relating to the devices' safety. In the United Kingdom, researchers with the National Joint Registry of England have requested a cessation of sales of metal-on-metal hip implants after they found that 6% of this type of hip replacement device fail within a period of five years, compared to only 1.7-2.3% failure rates in traditional plastic or ceramic implants.
[SmartLink zimmerhiplawsuit]