Lawsuits Continue Over Zimmer Hip Complications from Durom Cup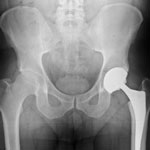 The number of lawsuits over complications from the Zimmer hip replacement known as the Durom cup continues to grow as more recipients of the device come forward with complaints.
History of Durom cup
The Zimmer Durom cup was approved by the FDA in 2006. But within a year, orthopedic surgeons began seeing problems with the cup in their patients who had been implanted with it, and began filing adverse event reports with the FDA. In 2008, Dr. Larry Dorr, the director of the Dorff Institute for Arthritis Research and Education and himself an orthopedic surgeon, sent a memo to the American Association of Hip and Knee Surgeons noting the exceptionally high failure rate of Zimmer implants among his patients. Out of the 165 patients who had received them, 14 required revision of the Zimmer hip within two years.
Durom cup failed to bond as intended
The Durom cup is made of metal and was intended to fit inside the pelvis and fuse to the patient's bone, giving the hip joint stability. But in many cases, the cup failed to bond and instead moved freely within the socket, grinding against the bone and causing the patient severe pain and impaired mobility.
In 2008, after only two years on the market, Zimmer temporarily suspended sales of the Durom Cup while it revised its instructions for the implant, but the company did not issue an actual recall of the Zimmer hip implant.
Durom cup MDL established in New Jersey
Because of the large number of lawsuits, a Durom cup MDL was established in New Jersey federal court in 2010, overseen by Judge Madeline Cox Arleo. There are currently 75 lawsuits pending in the MDL, and the first bellwether trials are expected to begin later this year. However, even before MDL trials begin, a number of cases have been settled. In 2010, it was reported that Zimmer had set aside $145 million in a settlement fund for such cases.
[SmartLink zimmerhiplawsuit]