New Plaintiff in Chantix MDL Attempted Suicide After Using Chantix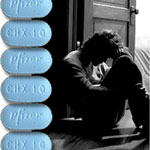 A Texas woman is the latest to join the multidistrict Chantix litigation occurring in federal court in Alabama. The woman filed her lawsuit against Pfizer, alleging that their popular smoking cessation drug caused her emotional side effects that eventually lead her to attempt suicide after using Chantix. She claims her suicidal ideation was directly connected with her use of the drug, and is demanding compensation from Pfizer for her injuries.
Side effects resulting from Chantix use may include psychological problems, heart disease
The woman's complaints are not uncommon, as there have been many reports of adverse side effects resulting from Chantix use. Most seriously, Chantix has been linked with depression, suicidal thoughts and attempts, as well as heart problems in users. In fact, these dangerous were so serious as to warrant a "black box" warning from the FDA, the most serious tool in the administration's arsenal. In spite of the warnings, consumers continue to use Chantix to treat their smoking habits, and continue to suffer from severe and life threatening side effects.
The medical community is torn on the issue of whether Chantix increases a patient's risk of heart issues enough to warrant further scrutiny. Recent research has suggested that these risks have been exaggerated in the media, and thus may discourage patients who could significantly benefit from Chantix from considering the drug as an option.
First Trials to be held in October in Alabama multidistrict Chantix litigation
However, enough individuals have filed lawsuits seeking compensation for Chantix injuries to warrant their consolidation into a federal MDL in Alabama (MDL 2092). These lawsuits will undertake pretrial proceedings and discovery concurrently, and later progress to trial separately. The consolidation is meant to conserve time and resources for all parties involved. The first cases to be heard are scheduled for October of this year, and will function as bellwether trials, setting the tone for subsequent proceedings.
[SmartLink chantixlawsuit]